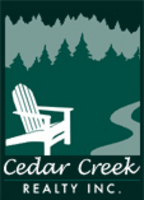 Their website is the ultimate resource for buyers and sellers of Arnold real estate...
Arnold, CA (PRWEB) December 17, 2009
Cedar Creek Realty, the leading real estate brokerage in Arnold and Calaveras County, recently launched an enhanced version of their website. It is the ultimate resource for buyers and sellers of Arnold real estate and properties throughout the county, the site is an interactive and user-friendly guide to the region and its wide range of housing options.
Here, homebuyers and those who want to spend a few days in the Sierras can browse through a wide selection of Arnold cabins and Arnold vacation homes, either for sale or for rent. Through their website, homeowners and sellers can also preview the full complement of services that Cedar Creek Realty offers.
Apart from providing advice, guidance, marketing plans and overall support to buyers and sellers, the team at Cedar Creek Realty also offers comprehensive property management services. With more than 20 years of experience in property management, the firm successfully manages a diversity of vacation and full-time rental properties, providing prompt and professional service to owners and renters alike.
If you're new to the region and/or to the process of buying, selling or renting out your home, the site features several handy guides that outline the steps you'll have to take and offers useful tips that help make everything flow smoother. Here you can read up on articles about the real estate and lifestyle options in Arnold and the rest of Calaveras County, and get to know the different neighborhoods that make up this scenic, serene and secluded slice of the Sierras.
For more information on Arnold and Calaveras County and to view currently available vacation homes and cabins, drop by http://www.CedarCreekRealty.com.
###