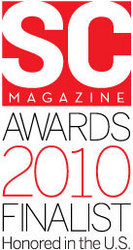 "The SC Awards celebrate the vibrancy, vitality and innovation of the IT security industry," said SC Magazine Editor-in-Chief Illena Armstrong
New York (PRWEB) December 16, 2009
This week, SC Magazine announced the finalists for the SC Awards U.S., recognizing the achievements of the top companies and IT security professionals striving to safeguard businesses, their customers and their data.
The annual SC Awards have recognized security's key contributors and outstanding products for more than a decade. As the industry's preeminent awards program, individuals, brands and products shortlisted often address not only the challenges prominent today, but also the emerging threat landscape of tomorrow. A complete list of the 2010 finalists can be found at http://www.scmagazineus.com/awards
"The SC Awards celebrate the vibrancy, vitality and innovation of the IT security industry," said SC Magazine Editor-in-Chief Illena Armstrong."Featured companies represent the best of the security industry. They benefit our readers and, in turn, corporate users of technology."
The Reader Trust panel was created through invitation of more than 1,000 end-users of security technology, representing the wide distribution of SC Magazine. Entries for the Excellence and Professional Awards categories are judged by panels of leading security officers from large, medium and small enterprises from all major vertical markets. The more than 25 Excellence and Professional Awards judges are selected from this pool by Armstrong for their broad industry expertise and IT security knowledge. The panels conduct in-depth analysis and consider many factors in narrowing down the field to announce the finalists. This year, finalists were chosen from more than 600 entries submitted in 31 different information security practices.
Winners of this year's SC Awards will be announced at a gala dinner and award ceremony to be held in San Francisco on Tuesday, March 2, 2010. Information security professionals from around the country will gather to celebrate and acknowledge a year of achievement for their companies and customers, against a challenging and changing security landscape. The event is a night filled with excitement, along with an invaluable opportunity to network with the top corporate IT professionals in attendance. To attend the SC Awards, please register at http://www.scmagazineus.com/sc-magazine-awards-2010/section/1053/
"Our finalists represent some of the industry's leading lights. I congratulate you all," said Armstrong. "I look forward to celebrating your successes and honoring the greater IT security industry at the upcoming SC Awards Gala."
About SC Magazine
SC Magazine provides IT security professionals with in-depth and unbiased information through timely news, comprehensive analysis, cutting-edge features, contributions from thought-leaders and the best, most extensive collection of product reviews in the business. By offering a consolidated view of IT security through independent product tests and well-researched editorial content that provides the contextual backdrop for how these IT security tools will address larger demands put on businesses today, SC Magazine enables IT security pros to make the right security decisions for their companies. Besides the monthly print magazine and daily website, the brand's portfolio includes the SC Awards, SC Directory, SC Magazine Newswire and the SC World Congress.
Become a fan of SC Magazine on Facebook and follow us on Twitter.
Follow SC Awards news on Twitter with the #SCAwards tag.
###