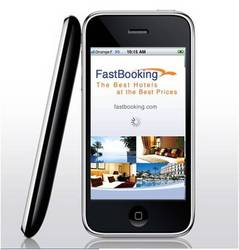 It's a quick, free download
Paris (PRWeb UK) December 17, 2009
FastBooking, a leading provider of advanced Internet booking systems and e-marketing services for the hospitality industry, announces that its iPhone(R) application can be downloaded immediately, at no charge, from the iTunes online store, http://bit.ly/fastbooking.
"It's a quick, free download," says Jean Robberecht, Vice President Marketing-Strategic Accounts. "No matter where an iPhone user travels, they'll have the
best hotels at the best prices, right in their hands."
The FastBooking iPhone app gives users access to the 4,000 hotels in the FastBooking.com portfolio, independent hotels around the world which rely on the FastBooking Engine to manage their online bookings. Through the FastBooking app, iPhone users can reserve their rooms and other hotel amenities in real-time based on the most current information on each hotel's rates and availability.
Additional unique features are also built into the FastBooking iPhone application:

Sophisticated GPS functions help users locate all nearby hotels.
Google Maps is integrated into the application so there's no need to leave the booking process to see a street or satellite map.
Potential guests can see photos of the hotel's rooms, restaurant, lobby, spa, pool and other amenities.
Forms are automatically filled in using information from the iPhone address book.
Secured links handle payment information.
Once a reservation is confirmed, an automatic route plan shows the guest how to get to the hotel.
The FastBooking iPhone app is a native application developed specifically for the iPhone to make the most of the technological and ergonomic advantages the platform offers: the intuitive interface, swiping and tapping features, and performance speed. The company will roll out its mobile strategy during 2010 with hotel booking applications for the most popular mobile platforms.
About FastBooking
Since 2000, FastBooking has been the preferred partner to hotelkeepers worldwide, driving more visitors to hotel websites and converting these visitors to direct bookings. FastBooking products and services optimize a hotel's business by maximizing highly profitable direct website bookings, then rationalize inventory and pricing across all online sales channels. The company even optimizes business through legacy GDS/IDS with a cost effective service.
Headquartered in Paris with subsidiaries in Italy, USA, Asia and India, the company has E. de Rothschild as its anchor investor. It employs 160 persons worldwide and has gained the trust of more than 5200 hotel clients.
For more information, visit the FastBooking corporate website at http://www.fastbooking.net
FastBooking is a registered trademark of FastBooking. Other trademarks and trade names may be used in this document to refer to either the entities claiming the marks and names or their products. FastBooking disclaims any proprietary interest in trademarks and trade names other than its own.
Apple, the Apple logo, Mac, Mac OS, Macintosh, iPhone, iPod touch and iTunes are trademarks of Apple.
###