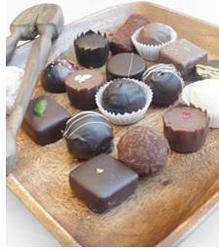 (PRWEB) December 18, 2009
To celebrate the recent relaunch of their site, Melt Chocolates are publishing their customer's reviews online, and offering the writer of the best review a box of award winning chocolates on the house.
The customer's reviews will sit alongside those of Time Out magazine, The Times, Evening Standard, Metro, Daily Telegraph and Le Monde Newspapers, who have described Melt among other quotes as: 'the City's coolest new chocolatier', 'cool', 'out of this world' and 'the best' .
'We are proud of our recent awards and reviews' Louise Nason, Melt's Founder said, 'but we will not rest on our laurels. As we are in the process of redesigning our website, we thought we would build in the ability to let our customers share their reviews of our chocolates, as it is ultimately their enthusiasm and passion for our products that is the single most important ingredient in our business.'
Melt are offering a box of their award winning, luxury chocolates to the best review sent into their website, and are also welcoming feedback on their newly redesigned site through the same method.
Melt was founded by Louise Nason back in 2006, and since then has aspired to provide the best quality chocolate from their stunning shop in Notting Hill, London. The shop, as well as the chocolates, is intended to bring high quality chocolate to a wider audience, as a visitor can see the chocolates being made in their kitchen, enjoy the intoxicating aromas which meet you from the moment you enter and also pick your own chocolates directly off the shelves.
Melt offers a UK wide deliver scheme on a wide range of their chocolates, and source their products from small farmers with a passion for producing chocolate on their farms, including beans from the heartland of Columbia, where Melt supports Chocolate Santander, the only single origin chocolate produced in Columbia. Melt is encouraging the local farmers to grow and make their own chocolate.
###