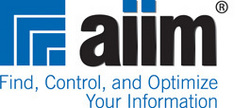 We are especially excited about the potential contributions of this new class of directors.
Silver Spring, MD (Vocus) December 17, 2009
AIIM, the leading non-profit industry association that helps organizations find, control and optimize their information, is pleased to announce its new board of directors starting in 2010.
"We are especially excited about the potential contributions of this new class of directors," notes AIIM President John F. Mancini. "During the nomination process we specifically sought industry experts from the end user community, the open source community, and from those building innovative E2.0 and collaborative solutions."
AIIM would like to congratulate the following in their appointments as officers of the AIIM Board of Directors:
Board Chair - Lynn Fraas, Crown Partners
Vice Chair - John Chickering, Fidelity Investments
Treasurer - Llewellyn Thomas, Albistur Consulting
Executive Committee Member At Large - John Opdycke, Hyland Software
Immediate Past Chair - Bob Zagami, Databank IMX
AIIM is also proud to announce the following incoming members to its 2010 Board of Directors.
Tricia Bush - Microsoft
Brent Bussell - IBM
Timothy Elmore - Bank-Fund Staff Federal Credit Union
John Newton - Alfresco Software, Inc.
Jeetu Patel - Doculabs, Inc.
Dr. Johannes Scholtes - ZyLAB Technologies
Chair, NA Advisory Trade Member Council - Joe Budelli, ABBYY
Chair, Professional Advisory Council - Scott Allbert, Document Platform Solutions
The new directors join the following returning Board members:
Mike Alsup, Gimmal Group
Gregory Schloemer, DocuWare Corporation
Whitney Tidmarsh, EMC Corporation
Terrylyn "TK" Train, Gambro Renal Products
Chair, European Advisory Trade Member Council - Andrew Ewing, HP
Chair, Standards Board - Stephen Levenson, Administrative Office of the US Courts
About AIIM
AIIM (http://www.aiim.org) is the community that provides education, research, and best practices to help organizations find, control, and optimize their information. The AIIM community has grown to over 65,000 professionals from all industries and government, in over 150 unique countries, and within all levels of management including senior executives, line-of-business, and IT.
For more than 60 years, AIIM has been the leading non-profit organization focused on helping users understand the challenges associated with managing documents, content, records, and business processes. Today, AIIM is international in scope, independent, implementation-focused, and, as the representative of the entire enterprise content management (ECM) industry including users, suppliers, and the channel acts as the industry's intermediary.
Subscribe to AIIM RSS feeds at http://www.aiim.org/feeds
Contact:
Beth Mayhew
Director, Marketing
AIIM
1100 Wayne Avenue, Suite 1100
Silver Spring, MD 20910
301.755.2681
bmayhew(at)aiim(dot)org
###