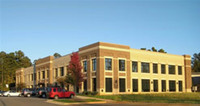 "We're happy to invest in our metro-Atlanta operations with an eye on the future."
Atlanta, GA (PRWEB) December 17, 2009
Atlanta-based Utilities Analyses, Inc. (UAI), a national player in utility rate consulting, has announced its purchase of new metro Atlanta office space to house its headquarters and provide room for expansion as the company continues to grow. The new loft-like office is located at 450 Old Peachtree Road in Suwanee,which is north of Atlanta and the company's former location.
The company had been actively seeking to purchase new office space rather than lease in order to build equity. "We are very excited to announce the purchase of our new office space," said Kevin Shaw, President of UAI. "We are grateful to be able to purchase this space in such a great location and at a time when there is so much inventory. UAI has both contributed to and benefited from strong local support and the excellent quality of life for our employees," says Shaw. "We're happy to invest in our metro-Atlanta operations with an eye on the future." The company currently has 14 employees and several on-site contractors.
UAI's revenues have grown over 50% over the past year, despite the economic downturn. The company attributes its success to aligning itself with clients who desire utility cost savings in the midst of tight energy budgets. The company helps large multi-site national corporations, industrial users and state or local governments reduce energy spend through commodity energy procurement solutions, objective utility rate tariff analysis and utility bill processing, which result in bottom-line cost savings. "In these difficult times, businesses are looking for ways to reduce rising energy and utility costs. Our job is to develop a strategic plan to rapidly reduce energy costs with measurable savings that can be benchmarked and documented," says Shaw.
About Utilities Analyses, Inc.
Since 1986, UAI's utility rate consultants have helped large utility customers reduce their costs. UAI provides energy supply-side services that reduce costs and utility budgets for commercial, industrial, government, and institutional clients managing multi-site locations. With unbiased rate and tariff analyses of regulated utilities and energy procurement in deregulated service areas, UAI identifies usage patterns of electric and natural gas spends that can be transformed into bottom -line cost savings. http://www.utilitiesanalyses.com
###