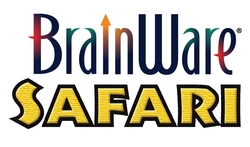 Building mental function in older minds, just like in younger ones, involves strengthening existing neural pathways, but also building new ones. BrainWare Safari works both in an engaging way."
Chicago, IL (PRWEB) December 17, 2009
When it comes to developing your brainpower, it's now a family affair, thanks to BrainWare Safari, a one-of-a-kind software program that sets the bar for electronic learning tools.
Scientists agree that mental function is not a nature-vs.-nurture debate. Instead, both nature and nurture are critical to intellectual ability. And the best way to do develop those all-important mental processing skills is to do it the way the brain naturally loves to learn – through challenging and entertaining games and puzzles.
But just like the right physical training can produce Olympic athletes, the right mental exercise can take anyone's intellect to a whole new level.
BrainWare Safari combines years of proven clinical techniques across multiple disciplines with video-game technology that stays true to the key elements of a successful video game – including characters, animation, sound, the freedom to explore, and just the right kind of challenge.
"BrainWare Safari is like calisthenics for the brain. The exercises 'tone' mental ability just as physical exercise tones muscles," said Jean-Claude Dutes, PhD, a psychologist at Michigan State University. "The brain, like a muscle, responds to exercises designed to stretch it yet not overwhelm it. While muscles gain in strength, agility and endurance as they are conditioned, brains gain in concentration, thinking speed, reasoning and mental stamina. BrainWare Safari is 'toning' for the brain."
Kids love BrainWare Safari, and it helps them develop skills for a lifetime. In a peer-reviewed published study, students using the program experienced over 4 years intellectual growth on average in 12 weeks vs. 4 months for the control group, and almost 2 years improvement in academic skills vs. 1 month for the control group.
Not quite a kid anymore? The nature of work is changing at an unprecedented rate and the ability to learn new skills, solve problems and think creatively is increasingly the ticket to getting and holding onto a job, as well as the key to long-term career satisfaction. The speed and flexibility in mental processing required in today's workplace can be developed – and BrainWare Safari makes it fun at any age.
BrainWare Safari develops and integrates cognitive processing at all levels of mental function. That's especially important for seniors. "We used to believe that cognitive decline was simply an inevitable part of aging but research has shown that the right kind of physical and mental activity can help maintain and even build brain function," says Pat Wolfe, author of Brain Matters and an international authority on neuroscience as it applies to teaching and learning. "Building mental function in older minds, just like in younger ones, involves strengthening existing neural pathways, but also building new ones. BrainWare Safari works both in an engaging way."
BrainWare Safari targets 41 cognitive skills considered most critical for effective mental functioning including multiple attention, memory, visual processing, auditory processing, sensory integration and logic and reasoning skills.
"In BrainWare Safari, players move around freely among 20 fun and challenging exercises. Sometimes we call them games, but they are actually based on long-proven clinical exercises, says Betsy Hill, LEC's president and chief operating officer. "It's like cross-training for the brain – developing connections in the brain that make learning and thinking faster and more efficient by working multiple skills simultaneously. It's much like turning a two-lane highway into a four-lane highway, allowing mental traffic to flow more smoothly and more quickly."
Much has been written about families that play together and the shared experiences and unity of purpose that playing together can foster. Family members engaging in BrainWare Safari alongside each other can reap those same benefits, but improved cognitive ability can also lead to improved communication, improved attention to household details, better understanding of family priorities and a greater ability to see things from different points of view.
About Learning Enhancement Corporation
Based in Chicago, Learning Enhancement Corporation develops and markets tools that build the mind's capacity to learn by combining the latest brain science with entertaining and motivating video-game technology. LEC received the EdNET Rookie of the Year Award in 2006 as the company most likely to have a significant impact on education in the coming years.
LEC's first product, BrainWare Safari, has won multiple awards including the Software and Information Industry's CODiE Award as Best Education Game or Simulation, a Parents Choice Award and a Teachers' Choice Award. It is the only program endorsed by Dr. Patricia Wolfe, author of Brain Matters and international authority on neuroscience as it is applied to teaching and learning.
BrainWare Safari is available at MyBrainWare.com or by calling 877-BRAIN-10 (877-272-4610).
# # #