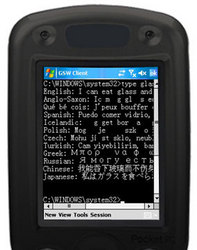 The emergence of China is a major opportunity for agile companies with the desire to strengthen their global presence by providing affordable quality technology products", said David Sexton of Georgia SoftWorks
Dawsonville, GA (PRWEB) December 17, 2009
GSW continues to meet global market demand by providing SSH2 and Telnet Mobile clients with built in support for Chinese Font GB. The Georgia SoftWorks Telnet and SSH2 Server for Windows has provided support for simplified Chinese GB2312 (EUC) and Traditional Chinese BIG5 for some time. The support on the GSW Mobile SSH and Telnet clients for Chinese GB font offers customers a feature rich yet affordable alternative to purchasing third party clients. The SSH and Telnet mobile clients are included with the GSW SSH2 and Telnet Server for Windows at no additional cost, providing a significant savings for large warehouse, inventory, manufacturing and RFID and Barcode environments.
"The emergence of China is a major opportunity for agile companies with the desire to strengthen their global presence by providing affordable quality technology products", said David Sexton of Georgia SoftWorks, "The GSW SSH2 and Telnet Server for Windows that has mobile clients which support Simplified Chinese Font GB is another stride in our global market participation".
Georgia SoftWorks has resellers around the world including Shanghai, Beijing , Hong Kong, Singapore, and Taiwan.
Established in 1991, Georgia SoftWorks is a privately held software development company recognized for creating high performance data communications, system and telecommunications applications. Georgia SoftWorks has obtained worldwide presence with its industrial SSH2/Telnet Server for Microsoft Windows 7/VISTA/2008, NT/XP/2000/2003. GSW long-term commitment to SSH2/Telnet has led to the pioneering of major features such as Session Shadowing, Session Monitoring, Session Sharing, Session Transfer, Session Swap, Session Recovery, Graceful Termination, Automatic Logon, Logon Scripting, and others.
# # #