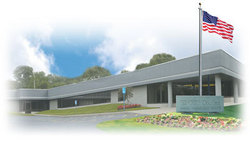 Emedco is the Leader in Custom Signs, Tags, Labels and Decals for the workplace.
Buffalo, NY (PRWEB) December 18, 2009
Emedco Inc, a leader in safety and custom signs for the workplace, today issued a reminder to all those who own businesses with private parking lots that, with the New Year, it's time to renew their company parking permits.
The end of the year is the perfect time to update parking permits to reflect the upcoming 2010 New Year. When you control access to your parking lot, you help protect employees, buildings & grounds from unwanted activity.
"Parking lots are the number one location where crimes occur. The easiest way to protect employees, buildings & grounds is to restrict unwanted traffic by implementing a parking permit system and installing proper signage to enforce company policies on parking, towing & surveillance. Emedco has everything needed to end illegal parking and monitor vehicles in and around the work facility - prevent crimes before they happen," said Renee Hioki, Merchandiser at Emedco. "Many businesses use parking permits as their first line of defense to help identify employees and visitors."
Emedco handles many different types of parking permits but the company maintains that the three most popular and most commonly used permits are:
1 Hanging Permits: These permits hang from the rearview mirror of a vehicle and are offered in two material options. Choose cardstock for temporary needs or plastic which comes with a lifetime guarantee that guards against fading, peeling and cracking or we'll replace them no cost.
2 Adhesive Permits: Choose from bumper-mount back adhesive, rearview mirror-mount (back adhesive), or window-mount (front or back adhesive).
3 Specialty Permits: These permits are offered in a self-cling, tamper-evident or see-through versions.
*All permits are available with custom options; choose colors, add custom wording or a logo.
For additional information please visit us at http://www.emedco.com.or call us at 1-800-442-3633
###