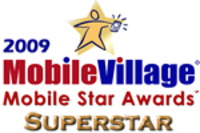 "We're honored to be recognized by readers of Go Mobile with these awards," said Robert Gadd, OnPoint Digital's President. "We're excited that others in the mobile community agree that our CellCast Solution is an innovative new way to deliver mobile cont
Savannah, GA (PRWEB) December 17, 2009
OnPoint Digital, Inc., a leading provider of online and mobile learning solutions, today announced that, for the third year in a row, its CellCast Solution™ has won gold in the eighth annual Mobile Star Awards™ program hosted by mobile technology news portal MobileVillage.com.
OnPoint Digital's CellCast Solution has been recognized with the following awards:

Superstar Award, Enterprise Software, Education or Training
Shining Star Award, Enterprise Software, Data Collection
Shining Start Award, Enterprise Software, Field Sales and CRM
The annual Mobile Star Awards program showcases "best of" entries in dozens of categories including mobile apps, enterprise mobile software, wireless network products, enterprise success stories, mobile industry visionaries, and more. Winners were chosen by subscribers to Go Mobile®, MobileVillage's free online newsletter sent to technology executives, mobile professionals, IT managers, developers, and top tech journalists.
"Because 'Go Mobile' readers are the industry's most savvy mobile business users, Mobile Star Awards winners can claim they are the users' choice," says Jon Covington, MobileVillage founder and president. "Winners are chosen by real users based on real results, not hype. Brand new mobile services competed on equal footing with well-established solutions, and both the nominees and winners are respected in the mobile industry as the new leaders to watch."
"We're honored to be recognized by readers of Go Mobile with these awards," said Robert Gadd, OnPoint Digital's President. "We're excited that others in the mobile community agree that our CellCast Solution is an innovative new way to deliver mobile content and two-way trackable communications to mobile workers."
OnPoint's CellCast Solution provides the ability to prepare, package, deliver and track content deployed to a mobile worker's cellphone or smartphone. Basic cellphone delivery options include voice, SMS messages, audio clips and trackable assessments and surveys. Smartphone users can use the CellCast Mobile WidgetTM to download and sync additional file types, including HTML/PDF files, audio/video clips and animated slideshows. Customers are currently supporting mobile initiatives across a variety of disciplines including mobile learning, sales training, field data collection, tradeshow and event communications, and mobile marketing campaigns.
About OnPoint Digital, Inc.
OnPoint Digital, Inc. is an eLearning and mobile learning solutions provider dedicated to the development of powerful yet affordably priced online learning and performance management tools for middle market and enterprise customers. OnPoint offers a full-featured LMS/LCMS software suite, enabling the creation and management of rich-media courseware, online assessments, appraisals, skills tracking and detailed reporting, plus numerous optional modules such as integrated document management, e-commerce, portal/intranet and localization offerings.
OnPoint's innovative and award-winning CellCast Solution allows companies to easily create, deliver and track mobile content and assessments directly to users' mobile phones. The software delivers 1 and 2-way messaging and podcasts to any standard cellphone, plus mobile web content, text and PDF files, videos/podcasts and animated PowerPoint® content to more advanced smartphones. Supported smartphone devices include BlackBerry® Wireless Handhelds, Apple iPhones® and iPod® touch media players as well as wireless devices based on other popular mobile operating environments including Microsoft Windows Mobile®, Google Android® and Nokia Symbian/S60®. All learning content can be accessed "over-the-air" or automatically synced to each learner's preferred mobile platform.
Perfect for just-in-time training, learning reinforcement, surveys, and marketing updates -- OnPoint's CellCast Solution helps organizations leverage their investment in cell phones and monthly plans by better utilizing an employee's time while mobile, and by making the knowledge they need available, where and when they need it most.
About MobileVillage
Founded in 1993, MobileVillage is a market and solution development company dedicated to advancing mobile and wireless technology in a wide range of industries. MobileVillage accomplishes this by fostering education and alliances through "Best of Breed" solution identification, event partnerships, an online industry directory, industry job postings, daily online news, its widely respected Go Mobile™ newsletter, a Mobile Mentors™ program, and popular annual Mobile Star Awards™ program. Visit MobileVillage online at http://www.MobileVillage.com.
This year's Mobile Star Awards winners are posted online at http://www.mobilevillage.com/awards.htm.
Copyright (c) 2009 OnPoint Digital, Inc. All rights reserved.
MobileVillage® and the Mobile Star Awards™ are trademarks or registered trademarks of MobileVillage / PDA Inc.
The BlackBerry and RIM families of related marks, images and symbols are the exclusive properties and trademarks of Research In Motion Limited.
Apple, the Apple logo, Mac, Mac OS, Macintosh, iPod and iPhone are trademarks of Apple.
Other company and product names may be trademarks of their respective owners.
###