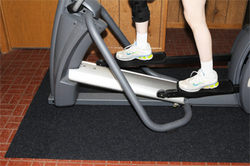 The ViSpa Exercise Matting allows me to use my elliptical trainer without disturbing my neighbors
Cleveland, OH (PRWEB) December 17, 2009
ViSpa Exercise Matting (http://www.floormat.com/vispa-exercise.html) is an all-vinyl, non-woven, continuous bonded product that has been engineered to inhibit noise due to vibration of exercise machines. This can be particularly helpful for apartment dwellers who wish to exercise without disturbing neighbors on the floor below. Resistant to mold and mildew, ViSpa is an ideal floor mat for use under exercise equipment, and can be cleaned using any standard cleaning product. ViSpa Exercise Matting has permanent memory thus it will not flatten or decompose like foam products.
ViSpa vibration reduction mats may be used under:

Treadmills
Elliptical Trainers
Recumbent or Upright Stationary Bikes
Steppers and Stair Climbers
Weight machines
All body training machines
As industrial matting, ViSpa is used:
ViSpa Exercise Matting is extremely durable, and the vinyl loops bonded to the rubber backing create thousands of tiny, noise-insulating pockets.
"The ViSpa Exercise Matting allows me to use my elliptical trainer without disturbing my neighbors," states Sara B.
ViSpa Exercise Matting is available in black pieces cut-to-size or in rolls of 3 feet or 4 feet wide and 20 feet or 60 feet long. The material can also be fastened or adhered to most wall surfaces to provide additional sound proofing, or grommets added to allow it to be hung like a noise curtain.
About Martinson-Nicholls
Martinson-Nicholls, has established itself as a leader in custom anti-slip tape, heated floor mats, and eco-friendly floor matting for more than 25 years.
Martinson-Nicholls provides the customer with the exact size matting needed--small, large, standard, nonstandard, special shapes and logos. Custom installations are also a specialty of the company.
The company is sponsoring a new blog on Cleveland Industrial History, with entertaining and informative stories on Cleveland's key role in industrial history, and the White Motor Company family.
Anti-slip safety tapes and treads are available in various sizes and textures from hand cut or die cut pieces to full rolls and special shapes. For more information, please visit http://www.floormat.com.
# # #