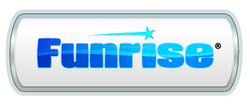 Licensee of the Year Award
Van Nuys, CA (PRWEB) December 18, 2009
Funrise Toy Corporation is proud to have been honored with the Hasbro "Licensee of the Year Award" for the Tonka brand. This is a prestigious award given by Hasbro and a great honor and recognition of their partnership with Hasbro over the last eleven years. For over 60 years Tonka has played an essential part of boyhood.
Funrise is pleased to be a part of such a respected brand in the toy industry. Funrise looks forward to continuing the Tonka tradition in designing and manufacturing quality Tonka products for future generations to come.
For more information, visit http://www.funrise.com.
###