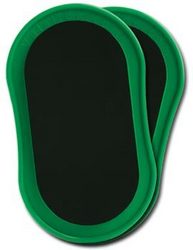 The Valslide® makes lower body exercises smoother and easier on the body with more effective and immediate results.
Los Angeles, CA (PRWEB) December 17, 2009
Dubbed "the secret fat-blasting weapon" on Access Hollywood, the Valslide® is the fitness equipment choice by Hollywood's A-list celebrities. The new Valslide®, named "Best Stability Trainer" in the April 2009 issue of Men's Health, was created by celebrity personal trainer, Valerie Waters. Developed with every fitness level in mind, the Valslide® makes lower body exercises smoother and easier on the body with more effective and immediate results. It will simultaneously strengthen and lengthen your muscles while rapidly redefining your body's function and appearance.
The Valslide® offers the most comprehensive exercises available using all large muscle groups including most of your joints. All exercises done with the Valslide® involve compound movements, meaning the utilization of two or more muscle groups combined with one exercise. This means more results in less time.
"It makes exercises seem easier but because of continuous tension on the muscle and controlled range of motion, the Valslide® actually makes your muscles work harder, thus, delivering results in record time," says Waters.
The Valslide® Reverse Lunge was recently shown on The Ellen DeGeneres Show along with other influential media outlets, as one of the most effective workout secrets Waters uses with her clients. When placed under your hands or feet, the Valslide® discs slide, creating mild instability and constant tension on the muscles. The ergonomic design of the Valslide® is intended to maximize workouts, ranging from core stability, balance and compound movements to cardio.
In these testing economic times, the Valslide® is saving consumers money on gym memberships, treadmills and workout machines by combining its portability, versatility, and effectiveness to prove its value with every use. Retailing at only $29.95, holiday shoppers are aware they won't be breaking the bank when purchasing the Valslide® as a thoughtful gift for a loved one. While other programs use bulky, expensive equipment and fancy footwork to try and entice the exerciser, simplicity is what gives the Valslide® its edge.
No longer will holiday traveling be the excuse for missing a workout, as the Valslide® allows the user to maintain their exercise regime with effective calorie burning, fat-melting, strength building, balance training and conditioning workouts that can be done anywhere. Consumers are getting a jump on their better body resolutions by using the Valslide®.
About Valslide®
The Valslide® was developed by Valerie Waters, trainer to Hollywood's elite. Seventeen years experience getting celebrities ready for important movie roles, events, magazine layouts and awards ceremonies has established Valerie as the premier personal trainer in Los Angeles—one who can produce the results, and fast. Featured in top publications ranging from Glamour, Vanity Fair and In Style to Fitness, Self and People, Valerie is the first person called when the actors need to either get in shape or stay that way. She has won the reputation for a quick turn-around, and a trademark look that is more tone and trim than bulk and build.
Used by actors, professional athletes, fitness gurus and fitness enthusiasts alike, the new piece of exercise equipment, the Valslide® is an affordable, portable workout necessity for the beginner to the very advanced. For more information, go to http://www.Valslide.com
###