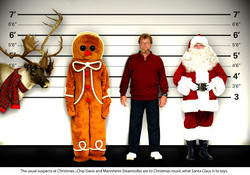 Today sales of all Mannheim Christmas albums have reached 27 million and Davis is celebrating a quarter-century of being America's favorite Christmas artist.
West Hollywood, CA (PRWEB) December 18, 2009
Twenty-five years ago, the instrumental group Mannheim Steamroller released an album that transformed the sounds of Christmas and changed the entire music industry.
Already a multi-platinum recording artist through its Fresh Aire series, founder Chip Davis decided to record an album of Christmas music combining the group's signature mix of renaissance instruments with rock & roll beats.
The resulting Mannheim Steamroller Christmas was a huge hit, propelling the group to become the biggest selling Christmas music artist in history and -- with over 38 million total albums sold -- one of the top 50 biggest selling musical acts ever.
The group's annual Christmas tour, which is also celebrating its 25th anniversary, has become an annual tradition right along with decorating the tree, exchanging presents and spending time with friends and family.
"I remember when I created Mannheim Steamroller Christmas," Davis says of his landmark 1984 album. "I took it around to all the major buyers and distributors and the first thing out of their mouths was: 'This is a Christmas record; that'll never work.' And everyone else in the industry told me a Christmas album would signal the end of my career."
Mannheim Steamroller Christmas flew off the shelves, selling five million copies after Davis produced it himself. Today sales of all Mannheim Christmas albums have reached 27 million and Davis is celebrating a quarter-century of being America's favorite Christmas artist with the release of a retrospective 2-CD set Mannheim Steamroller Christmas - 25th Christmas Collection.
"At Christmas time, it's comforting to listen to something from your childhood and for the past 25 years, people have grown up listening to our music," says Davis. "Plus Christmas time is family time and our music and concerts are family friendly -- we often have three generations attending one of our shows."
This year's annual Christmas tour began in November, with West Coast and East Coast ensembles of Mannheim Steamroller traveling to 65 cities. The shows feature the favorite Christmas music of Mannheim Steamroller along with state of the art multimedia effects in an intimate setting.
While Mannheim Steamroller is known worldwide, the story of founder Chip Davis includes majoring in bassoon at the University of Michigan, joining the Normal Luboff Choir upon graduation and later becoming an advertising jingle writer in Omaha. Ne.
A series of radio commercials about a fictional truck driver named C.W. McCall led to the song and later the movie, "Convoy", with Davis receiving ASCAP's Country Music Songwriter of the Year in 1976.
With the success of the record and the film, Davis left the jingle writing business and recorded an album called Fresh Aire, which he dubbed "18th Century Classical Rock". Often cited as a modern day "Renaissance Man", Davis' ongoing achievements include:

Founding his own record label when no label would take on his music. Today American Gramaphone is one of the nation'smost successful independent music franchises in history.
Outselling major artists as Bruce Springsteen, Bon Jovi and Sting. If you lined up all the Mannheim CDs sold, they would stretch from New York to Los Angeles -- and then into the Pacific Ocean. If you stacked them up, they would be 645 times taller than the Sears Tower.
Receiving 16 gold records, 7 platinum and 4 multi-platinum albums. All together, Davis has written, arranged and recorded over 35 albums, including eight in the "Fresh Aire" series; 18 Christmas albums and compilations; four Halloween albums, and many more to celebrate special occasions and holidays.
Developing the Mannheim Steamroller "lifestyle": In addition to his music, Chip is the author of five children's books and has created an entire line of food, bath and apparel products under the Mannheim name. The top selling non-music product is Cinnamon Hot Chocolate.
His most recent effort is creating a cutting-edge music therapy technology. Ambient Therapy combines nature sounds with music and is being used by Mayo Clinic, Wake Forest, Walter Reed and other major facilities. NASA is looking at the use of the system for long-term space travel.
Davis says these accomplishments all go back to his music base. "I like the business aspects, but the 25th Anniversary of Mannheim Steamroller's Christmas music reminds me that being a creative artist is what I'm all about."
Photos available for download at:
http://www.magicentertainment.tv/mannheimsteamroller/photos.htm
Video available for download at: http://mhp3.com/mannheim/ (right click on the link mannheim7-26.mov and select 'Save as")
For more information please log onto http://www.mannheimsteamroller.com
YouTube Video Address: http://www.youtube.com/watch?v=j7a0xMXF6O0
###