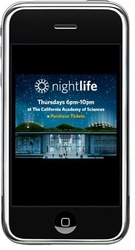 "We've connected a record number of online ad campaigns direct to the iPhone which is a major game-changer in terms of brand exposure on the mobile medium," said Greystripe CEO Michael Chang.
San Francisco, Calif. (PRWEB) December 17, 2009
Greystripe, the leading mobile brand-advertising network, today announced metrics around their partnership with Tribal Fusion, including the extension of over five hundred online campaigns to mobile in the past six months. The partnership with Greystripe offers Tribal Fusion's wide advertiser base an easy way to access the proven performance of rich media iPhone ad deployment with higher CPM and clickthrough rates than static ads.
"We've connected a record number of online ad campaigns direct to the iPhone which is a major game-changer in terms of brand exposure on the mobile medium," said Greystripe CEO Michael Chang.
How it works:
Advertisers that run campaigns with Tribal Fusion can simply choose to extend their campaign to mobile. Unlike other mobile ad networks, Greystripe supports advertisements that adhere to IAB specifications and standards, allowing Tribal Fusion Mobile advertisers to use the same flash creative for their online and mobile campaign. Greystripe takes Flash ads and transcodes them using their award winning technology so the ad is compatible on the iPhone. With this process, advertisers are seeing 10-20x higher performance with the mobile ad compared to the same online campaigns, with average CTRs well above 1%.
"MoGo Marketing & Media has experienced great success on behalf of our client, the California Academy of Sciences," said Lisa Kearney, Interactive Supervisor at MoGo Marketing & Media. "We were so pleased with the results that we renewed our test campaign and have added additional ones as well."
Greystripe is currently rolling out its web-to-mobile solutions for brands and agencies across the United States. To learn more or see a demo, please contact web2mobile@greystripe.com.
About Greystripe
Greystripe is the rich media mobile advertising network. Greystripe's product suite enables brand advertisers to communicate their brand message with a unique mobile audience, developers to gain advertising revenue by serving ads through their games, and consumers to play high-quality games for free.
Greystripe's in-game advertising system is protected by a broad array of patents pending and currently serves ads into more than 1,000 game titles supporting over 1,400 handset models. Greystripe reaches millions of mobile game players by powering over 180 Catalog distribution partners, through its online portal GameJump.com, on the mobile Web at http://www.gamejump.com, and through the iPhone App Store.
Greystripe was named the E-Tech CTIA award winner for the Mobile Marketing/Mobile Advertising category in 2009, AlwaysOn OnMedia 100 winner in 2009, AlwaysOn Global 100 winner in 2008, Red Herring Global 100 winner in 2007 and the Under the Radar Best in Show: Mobility winner in 2006.
About Tribal Fusion
Tribal Fusion is a digital marketing solutions company that drives superior results at all levels of the buying funnel. Our company is built around dedicated vertical teams that leverage their industry-specific knowledge of "what works" to create fully customized advertising solutions to help companies capitalize on opportunities at every level of the consumer decision process. From custom "brand channels" to increase awareness to vertical-specific targeting tools to drive immediate purchase, Tribal Fusion offers better solutions that drive greater results.
Tribal Fusion® is owned by Exponential Interactive, Inc. – a technology-driven media services company that delivers innovative products and services to meet the demands of advertisers and publishers. Additional information is available at http://www.tribalfusion.com and http://www.exponential.com.
###