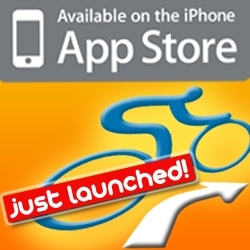 iPhone app interfaces are usually not well designed and overloaded, that's why we decided to take a different approach.
(PRWEB) December 18, 2009
Tokyo, December 16, 2009 - Deliapps' latest biking application for the iPhone, deliBike, has been officially launched on Apple's iTunes store on December 15th. deliBike makes it easy to keep track of all bike ride related data for both casual and professional bikers.
The application features accurate speed measurement by using the latest technology called "Fuzzy Speed Logic" (patent pending). Other outstanding features are odometer, calorie burn rate calculation, map orientation according to heading / compass and route tracking.
"Our main goal was to improve the user experience compared to other bike apps by designing a stylish user interface free from all gadgets and unnecessary information," said Stefan Gerstmeier, chief executive officer, Deliapps. "Our application is intuitive, easy to use and can be started up with just one touch. Still, it is fully loaded with intelligent technology, well hidden, but kicking in on demand and without much user interaction."
"The next version of deliBike will likely see several new features such as buddy racing, which let's you keep an eye on the tour data of your training partner or racing competitor during bike rides," said Christian Wolf, chief technical officer, Deliapps.
The application comes in 9 different languages and is available worldwide on the iPhone App Store starting on December 16th, 2009.
About Deliapps
As a software factory Deliapps provides innovative software solutions on mobile platforms for both businesses and consumers in various countries and continents. Established in 2007, Deliapps has a network of programmers and engineers based in over 9 countries.
Contact:
Stefan A. Gerstmeier
CEO / Deliapps
stefan(dot)gerstmeier(at)deliapps(dot)com
http://www.deliBike.com
Apple, iPhone, Fuzzy Speed Logic and all other trademarks are the property of their respective owners.
###