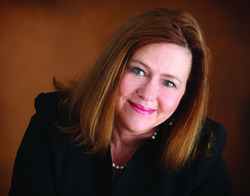 Deirdre brings an extensive background in healthcare consulting and strategic development, as well as a successful track record as a thought leader in the industry
Lenexa, KS (Vocus) December 18, 2009
B. E. Smith recently hired Deirdre Byrne to lead the firm's Interim Leadership division as senior vice president. A seasoned executive with nearly 20 years of experience in healthcare consulting, Byrne will assume her duties at B. E. Smith today.
"Deirdre brings an extensive background in healthcare consulting and strategic development, as well as a successful track record as a thought leader in the industry," said Doug Smith, chief executive officer, B. E. Smith. "Her proven ability to develop close advisory relationships with C-suite executives will be invaluable to the continued development of our interim services line."
As senior vice president of Interim Leadership Services, Byrne will focus on new service development and expansion into new markets, while being accountable for interim services quality and client/employee satisfaction. With a staff of over 200 healthcare leaders to offer clients, B. E Smith's interim division leads the industry in placements. Each of the firm's interim leaders has more than 20 years of healthcare leadership experience and brings the ability to make an immediate and lasting impact in terms of improved financial, operational and clinical outcomes, according to Smith.
"Innovative healthcare executives are finding that their organizations can experience positive growth through the strategic use of high-performing interim leaders. With more and more organizations utilizing the interim solution, we anticipate continued growth of our Interim Leadership Services under Deirdre's expert direction," he said.
Prior to joining B. E. Smith, Byrne served as president of McManis Consulting, where she had executive leadership responsibility for the company's healthcare consulting sales, hiring and training of new consultants, development of strategic relationships and marketing initiatives, as well as serving as a business advisor to some of the top health systems in the country. Her career has included executive leadership positions in the healthcare consulting practice at KPMG Peat Marwick, where she served as a partner, and Ernst & Young. Byrne also has held executive-level healthcare administration positions at Baptist Health System in Montgomery, Ala., and Lutheran Health in Omaha, Neb. She completed a Bachelor of Arts degree in political science and economics.
"Deirdre consistently has achieved new heights in company performance, while maintaining important relationships and driving sustainable results," Smith said. "Her unique and valuable skill set is a perfect fit with the direction we've set for the Interim Leadership division."
About B. E. Smith:
Founded in 1978, B. E. Smith is a full-service leadership solutions firm for healthcare providers. B. E. Smith's comprehensive suite of services includes Interim Leadership, Permanent Executive Placements and Consulting Solutions. The company is comprised of veteran healthcare leaders who partner with each client to create a solution that uniquely fits that client's individual needs. In 2008, B. E. Smith placed more than 600 leaders into healthcare organizations worldwide. For more information, visit http://www.BESmith.com or call 877-802-4593.
# # #