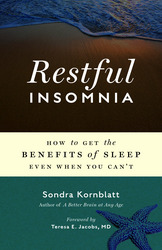 Each relaxing procedure e.g., "creating a night nest," "wisdom writing," "finding your spiritual center," "grounding," and "positive focus" is presented in step-by-step detail…for those interested in exploring meditative or stress-relieving techniques." ―
San Francisco, CA (PRWEB) December 19, 2009
Tonight, seventy-million Americans will battle insomnia. They will plump pillows, rehash arguments, fold laundry, take sleeping pills, watch TV. They'll seek sleep but not find it. According to the National Sleep Foundation, up to a third of all Americans suffer from occasional or chronic wakefulness. Prescriptions for sleeping pills have increased 60% in six years, even though recent medical research (Journal of American Medicine, June 2006) shows that behavioral therapies such as Restful Insomnia (Conari Press, January 2010) are more effective for sleeplessness than pills.
The Restful Insomnia five-part program is easy to make a part of each night's rest by offering techniques that help the sleep-deprived to accept insomnia, befriend the night, and greet the morning refreshed.
From the Introduction
"I tried to seduce sleep. Pills had side effects: I was groggy, dependent, and duller during the day – and that was before the side effects of new pills, side effects such as 'sleep-driving' at night. So instead, I tried cures from books, Internet sites, acupuncturists, friends, and doctors. If they worked at all, it was just for a night or two. All they did was give my insomnia a slightly different twist:
A snack or a glass of wine before bed (weight-gain insomnia); No food or wine after 8 P.M. (weight-loss insomnia); Sleepytime tea (wake-up-to-pee insomnia); Calcium, magnesium, melatonin, and L0tryptophan (expensive urine insomnia); Sleep 'hygiene': lights out at eleven, no napping, and waking at seven (exhausted insomnia); New pillow and mattress (in-debt insomnia); Exercise, warm baths, and relaxation exercises (healthy insomnia); Washing dishes, answering e-mail, and folding clothes (efficient and more exhausting insomnia); Yoga handstands, journal entries of irritations, banging my head against the headboard (Help me! insomnia)
It turns out the failed insomnia cures were gifts in disguise. During those long, lonely nights, I uncovered riches in the dark – how to befriend myself at night, how to mimic the benefits of sleep, and how to create a deep rest that renewed me. I shared these methods with other insomniacs who learned to uncover their own riches and rest in the dark.
In this book, I'm excited to share my Restful Insomnia program with you, one of the seventy million Americans who battle insomnia each night."
Restful Insomnia shows readers how to end the war with sleeplessness by learning to use their waking night hours to quiet the mind, replenish their inner creativity, and relax deeply — deriving many benefits of sleep.
Praise for the Book
"Sondra's program is a valuable addition to the approaches that I review with patients. Her book can help those with frequent insomnia explore different techniques at their own pace and focus on the ones that seem most beneficial. Everyone deserves a peaceful night; Restful Insomnia is one tool that will help many achieve it." Teresa E. Jacobs, MD, Creekside Sleep Medicine Center, Bellevue, WA from the Foreword
About the Author
Sondra Kornblatt is a health and science writer and the author of A Better Brain at Any Age and co-author of 365 Energy Boosters. She developed the Restful Insomnia program in 2000 and has been teaching it in the Pacific Northwest since. Learn more at http://www.restfulinsomnia.com. She lives in the Seattle area with her two children.
###