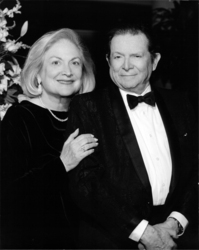 "We are deeply grateful to Fred Nederlander for making us the beneficiary of the 'Jersey Boys' premiere while providing us with a spectacular venue to publicly announce The Campaign for Beaumont Hospitals.
Grosse Pointe, MI (Vocus) December 18, 2009
When the cast takes the stage at the Fisher Theatre on Dec. 17 for the Detroit-area premiere of the award-winning musical "Jersey Boys," Beaumont cancer patients and cancer survivors will be the real stars of the show.
Thanks to the generosity of the Fred Nederlander family, all proceeds from the sold-out event will benefit the Betty Nederlander Healing Fund, established to commemorate the life of Nederlander's wife Betty, who passed away in September following a courageous battle with ovarian cancer. The fund will provide philanthropic dollars for cancer care and research trials at Beaumont Hospitals, including funds to provide treatment access for uninsured and underinsured cancer patients.
"Betty and I shared 54 beautiful years together," said Nederlander. "Our family established the Betty Nederlander Healing Fund to honor her memory and it's fitting to honor her in the city and theatre that she loved. On behalf of our children and grandchildren and our entire family, we extend our deepest gratitude to everyone who worked so hard to ensure a memorable event," said Nederlander. "We also want to acknowledge the physicians and nurses at Beaumont who provided the exceptional care that Betty received throughout her illness."
The "Jersey Boys" premiere event also marked the public launch of The Campaign for Beaumont Hospitals, a $170-million fundraising effort that has garnered more than $140 million in donations since January 2005, for a wide range of clinical programs at Beaumont.
"We are deeply grateful to Fred Nederlander for making us the beneficiary of the 'Jersey Boys' premiere while providing us with a spectacular venue to publicly announce The Campaign for Beaumont Hospitals," said Kenneth Matzick, president and chief executive officer, Beaumont Hospitals. "The funds raised through 'Jersey Boys' and through the Beaumont campaign are supporting our research, education and patient care initiatives and improving the lives of the hundreds of thousands of patients who come to Beaumont hospitals or outpatient centers each year."
Campaign Chair Walter Wolpin of West Bloomfield, president of the Wolpin Company, credited an outstanding team of volunteers for the success of the fundraising efforts on Beaumont's behalf. "Their leadership, generosity and commitment to the campaign have been phenomenal," said Wolpin.
"We deeply appreciate the leadership and commitment Walter Wolpin has brought to the campaign and gratefully acknowledge each member of the Campaign Executive Committee. Their hard work, dedication and personal contributions have ensured the campaign's success," said Margaret Cooney Casey, President of the Beaumont Foundation.
Members of the Beaumont Campaign Executive Committee include: Eugene Applebaum of Bloomfield Hills, owner, Arbor Investments Group; Susan E. Cooper of Birmingham, Beaumont Hospitals and Foundation Board director; Graham Orley of Bloomfield Hills, vice president, Elro Corporation; Jim Rosenthal of Bloomfield Hills, president, National Lumber Company; Warren E. Rose of Birmingham, general manager, Edward Rose & Sons; Hon. Deborah G. Tyner of Franklin, Beaumont Foundation Board director; and S. Evan Weiner of Franklin, executive vice president, COO and partner, Edward C. Levy Company.
The Beaumont campaign has secured 24 gifts of $1 million or more; more than 175 major gifts, planned gifts and grants of $25,000 or more; and more than 75,000 additional gifts. This has allowed Beaumont to establish new centers and programs and to conduct research in a wide variety of areas, including minimally invasive and children's surgery, surgical simulation, cardiovascular and oncology imaging, women's urology, breast and heart health, molecular and genetics medicine, behavioral pediatrics and eating disorders – to name just a few.
Beaumont Hospitals is a three-hospital regional health care provider with 1,711 licensed beds, 15,000 employees and 3,700 physicians in Oakland, Macomb and Wayne counties. In addition to its hospitals, Beaumont operates numerous community-based medical centers in Oakland, Macomb and Wayne counties, five nursing centers, a research institute, home care services and hospice. Visit Beaumont on the Web at http://www.beaumonthospitals.com.
###