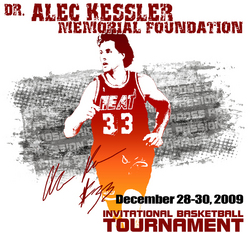 Gulf Breeze, Fla. (Vocus) December 22, 2009
The teams and the tournament schedules have been finalized for the
second annual Dr. Alec Kessler Memorial High School Basketball Invitational December 28-30, 2009 at Gulf Breeze High School and Gulf Breeze Rec Center. Eight boys teams and four girls teams from around the southeastern United States will make up the tournament brackets.
The first boys tip-off is at 10:00 am Monday, December 28 with Fairhope vs. Pensacola Catholic. The first girls tip-off is at 2:00 pm, Monday, December 28 with Robertsdale High vs. Northview High (Dothan, Ala.). The girls championship game will be played on Tuesday, December 29 at 6:00 pm with the boys championship game on Wednesday, December 30 at 8:00 pm. (See attached tournament schedules for full schedule).
Alec Kessler was an All-American basketball player at the University of Georgia, graduated Magna Cum Laude, and was selected as the NCAA All-Sports Student Athlete of the year in 1990. After college, Kessler was drafted into the NBA by the Miami Heat, and after playing professionally for four years he pursued his life goal of becoming a physician. Upon graduating with honors from Emory University Medical School and completing a residency in orthopedic surgery, Kessler moved to Gulf Breeze/Pensacola, Florida area to practice medicine with Baptist Health Care and the Andrews Institute, founded by renowned orthopaedic surgeon Dr. James Andrews.
The Andrews Institute, an affiliate of Baptist Health Care, has established a scholarship and mentorship program in Dr. Alec Kessler's name. All proceeds of the Basketball Invitational will support the scholarship and mentorship program which seeks to help Escambia and Santa Rosa County high school athletes overcome social and personal challenges in order to achieve academic success. The program hopes to positively influence a minimum of 100 student athletes annually while growing the mentorship program to include young women.
As part of this year's program, four $2500 scholarships will be awarded December 28, 2009 to area high school seniors. A dinner will be held that evening, 6 pm at St. Ann's Catholic Church in Gulf Breeze, to honor the participating teams and the scholarship winners. The keynote speaker will be former NCAA Basketball Coach Hugh Durham who coached Florida State, the University of Georgia, and Jacksonville University. Dr. Kessler's played under the direction of Coach Durham while he attended University of Georgia.
For more information about the tournament or the scholarship dinner, call (850) 916-8650 or visit: http://www.TheAndrewsInstitute.com
TOURNAMENT FACTS
WHEN:
Monday, December 28, 2009 - Wednesday, December 30, 2009
WHERE:
Gulf Breeze High School Gulf Breeze Rec Center
675 Gulf Breeze High School 800 Shoreline Drive
Gulf Breeze, Florida 32561 Gulf Breeze, Florida 32561
WHO:
Boys Tournament: Eight Teams from the southeastern United States
Gulf Breeze High School (Gulf Breeze, Fla.); Fairhope High School (Fairhope, Ala.); Milton High School (Milton, Fla.); Navarre High School (Navarre, Fla.); Catholic High School (Pensacola); Roswell High School (Roswell, Ga.); Ooltewah High School (Ooltewah, Tenn.), West Florida High School (Pensacola)
4-Team Girls Tournament: Gulf Breeze High School (Gulf Breeze, Fla.); Calvary Christian Academy
(Ft. Walton Beach, Fla.); Northview High School (Dothan, Ala.); Robertsdale High School (Robertsdale, Ala.)
COST:
$5.00 per game day. Tickets available at gate.
Tickets can also be purchased in advance at:
Athletes' Performance at the Andrews Institute
1020 Gulf Breeze Parkway, Gulf Breeze, Florida 32561
BACKGROUND:
The Andrews Institute for Orthopaedics & Sports Medicine in Gulf Breeze, Fla. provides world-class care and service for the athlete in everyone. The one-of-a-kind center focuses on the prevention, treatment and rehabilitation of musculoskeletal injuries while using the expertise of internationally renowned orthopaedic surgeon James Andrews, M.D. More information available at: http://www.theandrewsinstitute.com.
# # #