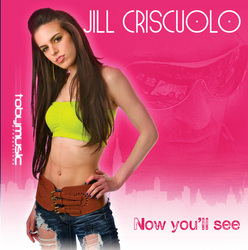 Jill Criscuolo new song and new TV pilot 2010
West Orange, NJ (PRWEB) December 18, 2009
Singer-Actress Jill Criscuolo continues to build her entertainment career with the release of a new CD, "Now You Will See". DJ Toby, a top dj-producer from the country of Malta produced the imported song. Jill's schedule is now infused with work on the pre-production for a TV pilot, wherein she has a starring role. The show that will appeal to a wide demographic is comedic with some dramatic themes. The multi-faceted entertainer is collaborating with various alliances to create, develop and promote her projects across various media platforms.
Pop singer and actress Jill Criscuolo continues to expand her discography with the release of a new maxi-CD single "Now You'll See". The song is an import, produced by Malta based DJ Toby, who frequently gigs in the U.K and parts of Europe. The pulsating CD features several versions of the song including House and Drum & Bass remixes by Jamal Coltrane, son of the jazz legend John Coltrane.
Her new song is now getting the attention of DJ's globally and is primed to reach an international audience. Jill is a recipient of two nominations as a New Music Awards best new artist and Top 40 singer. She is among an elite group of fellow nominees, a list that included Leona Lewis, Katy Perry, and Estelle.
The New Music Awards nominee has three previous singles that were featured on several Promo Only CD compilations in the past. Promo Only is a highly recognized worldwide facilitator of hit music.
On the visual front, the New Jersey native is presently preparing for her lead-starring role in an upcoming TV pilot. The project, a comedy with dramatic themes is written by award winning writer-director Mad Matthewz, and is in pre-production with a schedule to begin shooting in early 2010. Casting calls are being scheduled in the metro-NY area.
Music soundtrack for the series will be created and produced by her main production-songwriting network of hit makers, GBL, at Cybertime Productions (Studios) in New Jersey. The collective of producers, songwriters, musicians, and engineers has generated songs for Grammy and American Music award contenders. Songs from other artists will also be solicited and considered for the project.
Jill Criscuolo gained spotlight in the music video world with "Insane", a video with an intriguing plot. It was conceptualized by her and was featured on numerous video outlets including Music Choice and Fuse on Demand. She was the recipient of two top awards from eaTV http://www.evolvingartist.com for the video of her earlier song "I'm Sorry".
The multi-faceted entertainer is active on the social networking platforms and is developing several other innovative media based interactive projects that include a range of music, CD/DVD products, and a series of children's books. Merchandising items are also available and being devised through her company. Domestic and International pursuits are being explored for sponsor partnership opportunities to expand her brand.
Digital Distribution channels: iTunes, Amazon, Rhapsody, CD Baby, Verizon Vcast, Best Buy, and AOL Music video are among many others making her music and videos available to consumers.
About Jill Criscuolo
The singer-songwriter's musical journey conspicuously began at age 13, and in an interesting story-tale wrapped in fabric of a ritual of her culture, Jill found her thrill. In that instant, breaking out in song, music began to play an integral part in the soundtrack of her life. The personable 22 year-old remained active in various aspects of performing over the years. As we fast forward to the present, the entertainer is coming into her own, intent on building on her ever-developing abilities. Emerging as an unclassifiable performer, she has evolved from amateur to professional after having displayed her flair to many a crowd.
Get more info at:
http://www.jillcriscuolo.com
http://www.myspace.com/jillcriscuolo
http://www.facebook.com/jillcriscuolo
http://www.jango.com/music/Jill+Criscuolo?l=0
http://www.imdb.com/name/nm3571751/
Jill Criscuolo available on Itunes
http://ax.itunes.apple.com/us/artist/jill-criscuolo/id89222708
About Destined Fate Entertainment
Based in West Orange, NJ, the Company is an independent music entity that produces, promotes, markets and controls the copyrights on music and video in multiple formats. It also develops multimedia projects, including TV, Film, and online content, with exclusive rights to all properties. The company continue to focus on growth in an effort to reach its mission of becoming a premier production, recording, publishing, and multimedia company.
Info at: http://www.destinedfateentertainment.com
PR Note:
To gain access to art work and song snippets, please visit BillboardPublicityWire.com and conduct a search for Jill Criscuolo.
About Billboard Publicity Wire
Billboard Publicity Wire is the major and indie entertainment press release service that combines the direct-to-media distribution approach of traditional PR wire services with the latest direct-to-consumer social media features and search engine optimized (SEO) internet distribution techniques. It's the most effective service available for generating media coverage and online visibility for your artists, music, films, games, events and web sites.
###