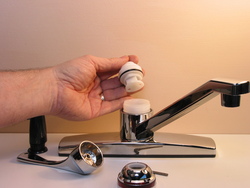 Repairing the items you have in your home is an excellent way to reduce your eco-impact. --Earth911.com
Willits, CA (PRWEB) December 19, 2009
Stuff breaks! Appliances, furniture, furnaces, toys, garage door openers, and everything else in the home will eventually break. And, in this tight economy, buying replacement stuff isn't always an option. Before replacing broken things, consider ten good reasons to figure out how to fix it.
1. Save money by not having to replace things that can easily be fixed. It might just need a fuse, a new electrical cord, or a screw tightened.
2. Buy better things that will last longer than disposables because they probably can be fixed if they ever do break.
3. Reduce the environmental impact of having a replacement manufactured from raw materials and transported from a far-off land.
4. Learn how to recycle the things that can't be fixed.
5. Build new skills and discover the satisfaction of fixing something that's broken.
6. Spend some quality time with kids fixing things together -- and teaching them a good lesson in economics.
7. Keep that family clock or other heirloom running longer.
8. Justify the cost of expanding the household tool collection.
9. Impress a spouse, partner, and others with new-found fixing skills.
10. Be a smarter consumer by knowing how things work and what to do if they don't.
Experts agree. "Repairing the items you have in your home is an excellent way to reduce your eco-impact," says Jennifer Berry of Earth911.com. "And the benefits aren't simply limited to your carbon footprint or waste output. You'll also save money in the long run, which everyone can appreciate during these economic times."
FixItClub.com is a free online resource with more than 180 illustrated Fix-It Guides on repairing everything from air conditioners to zippers. Popular how-to author Dan Ramsey's website includes simple instructions and tips on troubleshooting and repairing or recycling household things that break. The site's easy-to-use search engine quickly finds the appropriate Fix-It Guide for any household problem. The Fix-It Club's goal is to help fix the economy and the environment -- one repair at a time.
# # #