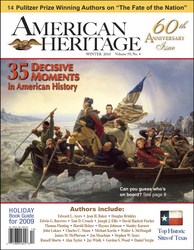 When I read in The New York Times that American Heritage had folded, I said, 'We just can't let this happen,' recalled Edwin S. Grosvenor, president of the company.
Alexandria, VA (PRWEB) December 18, 2009
American Heritage Magazine celebrated its 60th anniversary on December 14 with a party at historic Gadsby's Tavern, in the room where George Washington observed his birthdays.
Some 120 notables from throughout the historical community gathered to mark the occasion including Jim Rees, president of George Washington's Mt. Vernon; Bruce Cole, former Chairman of the National Endowment for the Humanities; George Allen, former Governor of Virginia, and authors Eleanor Clift, James Swanson, and Sally Bedell Smith.
"We're gathering to celebrate in a place that was well known to George Washington and Thomas Jefferson," noted Stephanie Pace Brown, President of the Alexandria Convention and Visitors Bureau in opening remarks to the gathering. "I'd like to extend a heartfelt thanks to Mr. Grosvenor, the staff, and the Board of Directors of American Heritage for saving this beloved publication."
Photos of the evening are online at http://www.flickr.com/photos/amheritage.
"Revitalizing American Heritage is something vitally important," said former Virginia Governor and U.S. Senator George Allen in his remarks to the gathering. "It is so important that people read, and are inspired by our fascinating history. Look at the challenges that our country faced from its very beginning. Now more than ever, history is important. If somebody doesn't understand history they're going to make mistakes. It gives you guidance, inspiration, and a sense of direction."
"I think American Heritage ought to be in every school library," continued Gov. Allen. "Your '35 Decisive Moments' [the 60th Anniversary issue] is fantastic, it's controversial. I majored in history and I didn't realize the importance of some of these moments. It makes you think. It is vitally important that we have an informed citizenry, so I thank you all for what you are doing."
"When I read in The New York Times that American Heritage had folded, I said, 'We just can't let this happen,'" recalled Edwin S. Grosvenor, President of American Heritage Publishing, in his remarks to the crowd. "I contacted the Forbes family and said, 'This is like intellectual preservation. It's important to save battlefields and historic homes, but this is the magazine that writes about the battlefields and the historic homes.' And luckily the Forbes family agreed with me and we formed a new company to save it."
Mr. Grosvenor reported that American Heritage Publishing is now operating in the black, and advertising was up 116% this year, a dramatic improvement at a time with other magazines are losing ground.
Thirteen of the authors in the 60th Anniversary issue were winners of the Pulitzer Prize. Some of these writers included James McPherson, Joseph Ellis, Jon Meacham, Douglas Brinkley, Jay Winik, Harold Holzer, Jean Baker, Stephen Sears, and David Hackett Fischer.
"American Heritage is not only important, it's essential," commented Bruce Cole, former Chairman of the National Endowment for the Humanities, at the party. "Americans have to know where they have come from to have a compass to the future. These days, when so many historians are burrowing in their little niches and have so many subspecialties and are not writing for the general public, American Heritage is. And it's continuing this great tradition of writing very smart, very original history for the lay audience and I don't think there is a greater service that can be performed by any magazine devoted to America's past and this is a great tradition with a really promising future."
"I'm here at this wonderful event to commemorate American Heritage's revival," said Eleanor Clift, a contributing editor of Newsweek and regular panelist on the nationally syndicated television show The McLaughlin Group. "Many people are not as aware of our history as they should be, and I include members of the press and even some people in the Administration. I think our schools need to be doing a better job of teaching history. American Heritage fills a much-needed place in American life. It should be required reading, and I'm delighted that it's got a new lease on life."
Other comments about American Heritage and the 60th Anniversary Issue:
"The historic 60th edition of the magazine looks terrific and I have already read several entries. You have produced an instant classic and I know it will generate great interest in the country."
—Brent Glass, Director, Smithsonian National Museum of American History
"American Heritage's 60th Anniversary issue is a cause for celebrations by historians and lovers of history from Boston to Seattle. It is proof that this great magazine has been rescued from oblivion and restored to vivid meaningful life. Publisher and Editor-in-Chief Edwin Grosvenor, Executive Editor John Ross and their talented staff deserve our unstinting thanks for this achievement."
—Thomas Fleming, past president of the Society of American Historians
"With its 60th anniversary issue, American Heritage Magazine not only builds on its exemplary tradition of reporting and interpreting history at the highest level of quality—it makes history of its own as well. The diamond jubilee issue belongs in the hands of every lover of history, and in the library of every collection where history is cherished and passed on to new generations. Never have so many brilliant writers written such succinct gems about so many crucial moments in our past.
—Harold Holzer, author of 33 books, Chairman of the Lincoln Bicentennial Committee and Senior Vice President, External Affairs, The Metropolitan Museum of Art
About American Heritage:
American Heritage Magazine is the oldest, most respected and best known history magazine in America, carrying forward the mission its founders spelled out: "We believe in good storytelling; that interesting writers can interpret history and restore it to the place it once occupied as the noblest branch of literature."
American Heritage was launched in December, 1949, by the American Association for State and Local History and sold a few years later to a group of staffers from Time-Life. Under the leadership of editor Bruce Catton, who had just won the Pulitzer Prize for A Stillness at Appomattox, the founders believed the American story was one of endless fascination and sought to apply the techniques of journalism to the discipline of history.
Over the years, American Heritage has won many honors, including the National Magazine Award.
However, in May, 2007 the magazine was forced to suspend publication. Several months later, the assets of American Heritage, Inc. were purchased by a new company, American Heritage Publishing, led by Chairman Robert Breeden and President and CEO Edwin S. Grosvenor. Mr. Breeden is the former Executive Vice President of the National Geographic Society, where he launched National Geographic Traveler and ran the book and educational media divisions. Mr. Breeden was also Chairman and President of the White House Historical Society and Capitol Historical Society.
Under the leadership of President Edwin S. Grosvenor, the company dramatically cut expenses and shifted the magazine's editorial focus back to traditional history, away from popular culture and nostalgia. "We seek authors who are the most respected historians, and have written popular books on American history," says Mr. Grosvenor. "It's important that they can tell a good story and be interesting."
Other directors of the company include Bruce Cole, former Chairman of the National Endowment for the Humanities; Scott Masterson, Senior Vice President and General Manager of Forbes, Inc.; Allen Weinstein, former head of the U.S. National Archives, and Robert Wilburn, former president of both Gettysburg Foundation and Colonial Williamsburg Foundation.
American Heritage Publishing also publishes books and a second magazine, Invention & Technology, the only popular magazine dedicated to the history of invention and innovation.
The company runs a large website, http://www.americanheritage.com, with some 13,000 articles on history written by the leading historians of the last half century. It is developing an innovative new website, http://www.heritagesites.com, with information on over 3,000 historic sites and museums across the country.
For more information, please contact:
Melissa Hunsiker at 240-453-0900 ex 12
E-Mail: mhunsiker (at) americanheritage.com
###