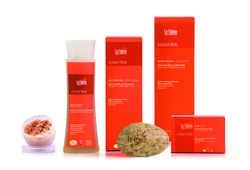 Since La Falaise only uses nature's finest ingredients, they are giving back to the place of origin- the sea.
Los Angeles, CA (PRWEB) December 18, 2009
La Falaise announced a partnership with Reef Check for their new French organic men's algae soap line. Since La Falaise only uses nature's finest ingredients, they are giving back to the place of origin- the sea. For every Algae and Carthame bath line sale, La Falaise will give a percentage back to Reef Check a non-profit organization promoting awareness about the Earth's coral reefs.
As an avid scuba diver, La Falaise owner, Emmanuel Colliot, noticed the changes happening under the sea. That is one of the reasons why all of the products of La Falaise are safe for the environment since all of the ingredients are organic. It is also why he reached out to the environmental organization, Reef Check, to see if they could work together to promote knowledge about the deterioration and encourage rehabilitation for the world's reefs.
"We're very excited about this partnership and opportunity to contribute to a more sustainable and beautiful world for our children," said Colliot.
Reef Check is a non-profit organization that protects and rehabilitates reefs around the world. Since the Earth is 71 percent water and our bodies are also approximately 71 percent water, Reef Check believes that it is vital to educate the world about the importance of their mission. Approximately 25 percent of the ocean species live in our coral reefs and about 50 percent of those reefs are destroyed or in danger due to overfishing and pollution. What this means for people worldwide is that if the reefs are damaged then habitat for sea life is scarce and less chance of reproduction of any sea life which disrupts the circle of life.
"Reef Check divers all over the world are collecting important data under water so the truth can be shared and better marine management decisions are made. We dive for a purpose…for the future," said Sue Chen, Chairwoman of Reef Check Board of Directors.
Now, not only can people enjoy the natural and luxurious ingredients of La Falaise Algae and Carthame soap but they can also be aware that they are using environmentally safe products and contributing to the education and awareness of our world's reefs. That knowledge can definitely make for a happy bath.
About La Falaise
La Falaise believes that nature is the best source for beauty. They are passionate about purity and want their clients to have total confidence in the safety of their products. Every product is as sensuous as they are sustainable. This translates to a totally transparent production process and they are adamant about cultivating their ingredients using organic methods only. Parabens, GMOs, or synthetic chemicals or other harmful substances have no place in their products. La Falaise manufactures their products with the highest possible concentration of organic and natural ingredients.
About Reef Check
Founded in 1996 by marine ecologist Dr. Gregor Hodgson, the Reef Check Foundation is an international non-profit organization dedicated to conservation of two ecosystems: tropical coral reefs and California rocky reefs. With headquarters in Los Angeles and volunteer teams in more than 80 countries, Reef Check works to create partnerships among community volunteers, government agencies, businesses, universities and other non-profits. Reef Check goals are to: educate the public about the value of reef ecosystems and the current crisis affecting marine life; to create a global network of volunteer teams trained in Reef Check's scientific methods who regularly monitor and report on reef health; to facilitate collaboration that produces ecologically sound and economically sustainable solutions; and to stimulate local community action to protect remaining pristine reefs and rehabilitate damaged reefs worldwide.
# # #