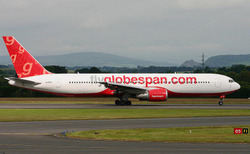 It's terrible news for the 3,400 stranded passengers, for the 90,000 people who have paid for flights with the airline
(PRWEB) December 19, 2009
Travel search site Skyscanner has already reported an 283% rise on searches for cheap flights and now this. Skyscanner is assisting affected passengers by helping them to find replacement flights."
"Searches on Flyglobespan routes have already gone through the roof and will continue to rise over the next few days. We saw a 269% rise on user traffic for XL Airline routes following its collapse in September 2008; the spike on Flyglobespan routes has already overtaken this."
According to a statement on Flyglobespan's website, customers who have booked a flight through Globespan Airways Limited operating as Flyglobespan are unlikely to be covered by the ATOL scheme.
Customers who have paid by credit card or Visa debit card should contact their card issuer in the first instance to determine whether they can claim a refund.
Skyscanner has set up a dedicated help page offering links to alternative flights on all Flyglobespan routes.
About Skyscanner:
Skyscanner is a leading travel search site based in Edinburgh, Scotland. Skyscanner provides instant online comparison on flight prices, including flights to London for over 670,000 routes on over 600 airlines, as well as car hire, hotel and holiday price comparison. With Skyscanner, users can browse without having to enter specific dates or even destinations, and Skyscanner is available in 20 different languages including French, German and Spanish.
###