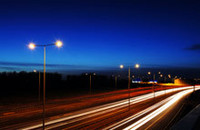 Over 50's use their experience to avoid driving in the dark
(PRWEB) December 21, 2009
Women drivers three times more concerned about night time driving than men.
Over 50s use their experience to avoid driving in the dark.
More motor claims occur in the winter months as the nights draw in.
As the clocks turn back, many motorists will find themselves driving longer hours in the dark. Research by Saga Over 50's Car Insurance reveals driving at night is a worry for a fifth of over 50s and for over five million* UK motorists overall, with a quarter (25%) of these drivers saying they fear for their safety.
The research shows that a fifth (20%) of all UK motorists drive less in the winter in order to avoid driving in the dark, this rises to a third of drivers over 70 (31%). Over half of those worried about night time driving would go out less in the evening (55%) to avoid driving in the dark, this applies to almost two thirds (64%) of people aged 60-69. Furthermore, almost a fifth of British motorists (17%) would shop online rather than go out shopping in the evening. People who need to travel at night, are even prepared to pay extra to avoid driving themselves, one in five (20%) saying they would use public transport more often, and one in eight (12%) would take a taxi instead. A third (32%) of the over 70s would opt for public transport and one in four would spend out on a taxi.
Andrew Goodsell, Executive Chairman, Saga Group, said: "Driving in the dark is clearly a worry for a significant number of motorists. Our research shows the over 50s use their experience to adapt their driving to reflect conditions on the road and as you would expect have fewer accidents than other age groups."
Whilst over half (56%) of the over 50s find driving in the dark more tiring, it seems the under 50s find night vision the biggest problem - 45% of under 50s say they find it difficult to see at night, compared to just 37% of over 50s.
Saga claims stats show that there are more claims for accidental damage in winter than any other season** so clearly the winter is a key time for people to find out how good their insurance really is. 84%*** of Saga Motor Insurance customers rate their claims experience as good or better and this is no surprise given that we operate a 24 hours seven days a week claims service, manned by polite and helpful UK based contact centre staff, with no forms to fill in. Work carried out by our approved repairer network is guaranteed for five years. We also offer a replacement car if the insured vehicle is being repaired by us following an accident or theft.
Notes to Editors
*Research carried out online by Opinium surveying 2,021 adults in the UK between 22nd - 28th September 2009.
According to the DVLA there were 36,726,463 drivers registered on 16/03/09.
14% say they are afraid of driving in the dark – 14% of 36,726,463 = 5,141,705
** based on internal claims data – the frequency of claims is 8% higher than spring
*** customer survey October 2008
The top 5 reasons people don't like driving in the dark are:
1. Being blinded by other people's lights 49% (under 50s) 69% (over 50s)
2. Driving in dark is more tiring 56% (Under 50s) 43% (Over 50s)
3. Can't see well enough 45% (Under 50s) 37% (Over 50s)
4. Can't judge distance so well in the dark 34% (under 50s) 32% (over 50s)
5. Worry about safety 25% (under 50s) 24% (over 50s)
The top 5 tactics to avoid driving in the dark are:
1. Go out less in the evening 45% (under 50s) 61% (over 50s)
2. Try and run errands earlier before it gets dark 48% (under 50s) 54% (over 50s)
3. Use public transport more 18% (under 50s) 21% (over 50s)
4. Rely more on friends and family 19% (under 50s) 20% (over 50s)
5. Order more food/shopping online 18% (under 50s) 16% (over 50s)
For more information please contact the Saga Press Office on 01303 771529
###