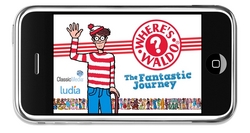 New York, NY (PRWEB) December 18, 2009
Candlewick Press and Classic Media, a global media company with a portfolio of some of the world's leading kids and family brands, today announced that pop culture icon, Where's Waldo?™, reached two major milestones this week in two different mediums. The Where's Waldo? book series has now sold an incredible 50 million copies worldwide and the Where's Waldo?® The Fantastic Journey game for iPhone™ and iPod® touch reached the coveted #1 position in overall applications on the App Store (U.S. and Canada). The game, created by interactive entertainment company, Ludia Inc., reached #1 App within 48 hours of launch on December 9th, and continues to be in the Top 10 and #1 in Games.
Since its first publication in 1987, Where's Waldo? has become an international phenomenon, with the books being sold in over 30 countries and 25 languages, including Egyptian, Korean and Hebrew. The exciting search-and-find essence the books brought to Waldo Watchers worldwide has now been translated for Waldo's increasingly mobile fans with the game popping up in the App Store on iPhone and iPod touch.
About Where's Waldo?
Created by Martin Handford and first published in 1987, Where's Waldo? is one of the most recognizable characters in the world and a pop culture icon. A global publishing phenomenon with 50 million books sold worldwide, the successful series is published in over 50 countries and has been translated into more than 25 languages. JOIN THE SEARCH! as the ultimate world traveler graduates beyond books and gets his digital passport. Online, in-store, or at events--who knows where Waldo will be spotted next? Spot Waldo online at FindWaldo.com.
###