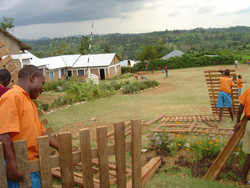 It doesn't matter how old or young we are, it doesn't matter what walk of life we came from or live now, it doesn't matter if one's passion is music and another soccer each of us has the power and ability within ourselves to make a difference in the world
Los Angeles, CA (PRWEB) December 19, 2009
Ellen Kwon, a fourth grade teacher at El Rodeo has a goal: to ongoingly initiate an awareness of the world outside of her classroom, which is why she partnered with nonprofit organization, Help for Orphans.
"One of the ways I do this is through a weekly assignment called Current Events," explained Kwon. "Each week, the children spend time reading about news in their community, state, country and world. Whatever the topic may be, the goal is to thread an understanding that what happens outside the classroom door affects us, however little or large."
When the opportunity rose to team with Sarah Ehrlich, a parent of one of my students, and founder of the nonprofit, the children took full ownership by planning and executing their own fundraisers. "Some had bake sales, others held lemonade stands--one group even decided they wanted to run a "doggy-daycare/grooming" station at a nearby dog park!" Kwon exclaimed.
"The most fulfilling part of the project was to see the children's inspiration in action...their desire to help and make a difference was not just a thought - but it was put into action. The children raised approximately $700 and all of that money was donated to the organization, and in turn, was used to purchase mattresses and bunk-beds for the children at the orphanage so that they no longer had to sleep three to a bed. I value the experience and even as a teacher - it reminds me that nothing is too little when you want to make a difference."
"Equally valuable is the notion that we are all catalyst of change," said Ehrlich. "It doesn't matter how old or young we are, it doesn't matter what walk of life we came from or live now, it doesn't matter if one's passion is music and another soccer - each of us has the power and ability within ourselves to make a difference in the world."
About Help for Orphans:
Help for Orphans International is a non-profit organization that seeks to supply superior education materials and trade teaching to orphans around the world. The founder, Sarah Ehrlich, started Help for Orphans International three and a half years ago under the mantra all children have the right to an education and to excel in their natural talents.
# # #