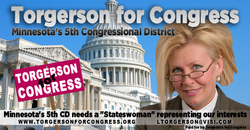 Robust defender of all things American.
Minneapolis, MN (Vocus) December 20, 2009
Lynne Torgerson describes herself as a "Stateswoman for Congress," running for Congress in the 5th Congressional District in the State of Minnesota. Torgerson is running against Keith Ellison, which according to his office, is the first Muslim elected to Congress. Lynne Torgerson is seeking to broaden her base of support.
Ms. Torgerson says she is a patriotic "Stateswoman" and "Robust defender of all things American."
Over the past 20 years Torgerson has diligently and compassionately worked on behalf of all peoples, races, religions, people popular and unpopular, protecting their rights, and consequently, America's values and freedoms. Torgerson who has lived and worked in Minneapolis for over 30 years says she is naturally an "Over protective mother when it comes to diligently watching and protecting the American dream, for all people who strive for it." Torgerson seeks to continue her role of working on behalf of the values of America and Americans in Congress. She is asking for you to help her do so.
Torgerson states her opponent; Congressman Keith Ellison is closely associated with CAIR (The Council on American Islamic Relations). She says voters in Minnesota should know that "CAIR was named a co-conspirator, albeit un-indicted, in the recent Holy Land Foundation criminal trial, resulting in conviction(s) for sending millions in funds to terrorists, namely Hamas. Keith Ellison has helped raise funds for CAIR. CAIR has helped Keith Ellison conduct fund-raising for his campaign. Keith Ellison should not be an elected official in our federal government."
About Lynne Torgerson:
Torgerson obtained degrees in Political Science and Psychology at the University of Minnesota before attending law school at William Mitchell College of Law. In law school, Torgerson was on Law Review and Moot Court. In 1990, she obtained her juris doctor degree, and graduated with honors. Following law school, Ms. Torgerson was a Law Clerk to the Honorable Ralph J. Geffen, United States Magistrate Judge, United Stated District Court, Central District of California, Los Angeles, California. Torgerson currently operates a successful law practice in downtown Minneapolis. Recently, Torgerson was named among Attorney of the Year by Minnesota Lawyer, the leading legal newspaper in Minnesota. She is also active in her church.
For more information, visit Torgerson for Congress website at http://www.torgersonforcongress.org. This press release has been paid for by the Torgerson for Congress - http://www.torgersonforcongress.org
###