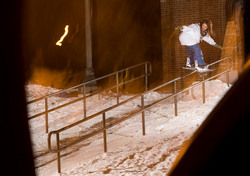 She has crushed everything from street rails, resort parks and backcountry booters.
St. Paul, Minn. (PRWEB) December 20, 2009
The House is chalking another one up on the team as Gabi Viteri comes to join the rest of the snowboarders. There is no doubt Gabi is a driving force in women's snowboarding and The House knew they wanted her playing their side.
Gabi has quickly become one of the hottest women snowboarders to hit the scene. She has crushed everything from street rails, resort parks and backcountry booters. If being on the Burton women's pro team doesn't say enough she has the talent to back it all up. Gabi is climbing to new heights in snowboarding that few girls have achieved. She has reached this goal by simply making sure to have fun riding and not take it too seriously.
Gabi's drive to keep making herself better as a snowboarder comes from her friends and anyone around her that has a passion about what they are doing. Aside from all the medals and high ranking places Gabi says that her biggest achievement in snowboarding has been to see how much she has grown as a rider and as a person.
That type of thinking may not work for every rider, but it has definitely allowed Gabi to flourish. When it comes to setting future goals all it takes, Gabi says, is to "dream big, what you got to lose?" With where Gabi is today, dreaming big seems to work. Coming out for this '09/ '10 season she makes an appearance in Burton's movie The B and she already has plans to start filming for another video. She has also racked up an impressive list of sponsors such as Burton, Anon Cartel, Red Woodward at Copper and now The House.
Gabi came to The House snowboard team through her roommate Bev Vuillemier who has been on the team for some time. It didn't take much persuasion from Bev to get Gabi to come on board. Gabi told us, "Bev said I should be on the team and I said okay…" The two girls are living in Breckenridge, Colorado now, which Gabi says has been a really fun time and they have even collected a few noise complaints since the two of them have been living in the same house.
The House hopes to help Gabi keep moving forward in her career as she progresses women's snowboarding. Gabi said, "I am really stoked to be a part of The House team. I really like how it already feels like just a fun time and no BS corporate stuff involved." To see Gabi's brand new team page head over to The-House.com.
For more information, visit http://the-house.com.
# # #