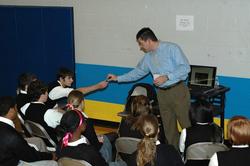 Mentor, OH (PRWEB) December 20, 2009
Roll-Kraft was recently represented during Career Week at the nearby Notre Dame Cathedral Latin High School. Mr. Steve Zienka, Engineering Manager at Roll-Kraft, spoke to juniors and seniors about career options in the tube, pipe, and roll forming industries during the science, design, and engineering portion of the program. Roll-Kraft holds a prominent position in designing and manufacturing roll tooling, and Mr. Zienka's many years of experience provided first-hand knowledge of the industry.
In addition, Mr. Zienka shared an assortment of products that were manufactured by Roll-Kraft's tooling, and demonstrated Roll-Kraft's custom tube and pipe tooling design software, which allows testing of engineering designs in a virtual setting before manufacturing begins.
Roll-Kraft is active in many community organizations and provides similar support to students and curricula in the various schools and colleges in Northeast Ohio.
About Roll-Kraft
Roll-Kraft is a designer and manufacturer of roll tooling and roll forming equipment for welded tube, pipe, and metal roll forming producers, with headquarters in Mentor, Ohio, and offices in Frankfurt, Illinois (Roll-Kraft Northern), and Woodbridge, Ontario, Canada (Roll-Kraft Ltd.). Roll-Kraft can be reached by phone at (440) 205-3100, or fax at (440) 205-3110. Roll-Kraft president, Chuck Gehrisch, can be contacted at 888-953-9400. For more information about Roll-Kraft products and services, please visit http://www.roll-kraft.com.
# # #