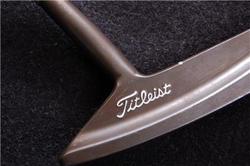 Minneapolis, MN (PRWEB) December 19, 2009
Though just under three days remain to bid on a Scotty Cameron Handmade putter played by a former PGA Tour player and US Open winner, it will be the most expensive golf club ever sold based on the current bid.
The putter, an authentic and certified Scotty Cameron Handmade with a satin Fluted Bulls Eye shaft, is on sale at ebay. The sale will end Monday, 5 PM EST, leaving enough time for a 2-day shipment to arrive on Christmas Eve.
Though the name of the player who used the putter on the PGA Tour is not being disclosed by the seller, 2nd Swing, golf aficionados will be able to glean the information themselves on the ebay auction page, where the initials are inscribed into the toe of the club.
Outside of a few minor nicks and pitting, the putter is outstanding condition. It has drawn intense interest from Scotty Cameron collectors and has been a hot topic among golf bloggers.
About 2nd Swing
2nd Swing is the second largest provider of used golf clubs in the United States, with over 7000 certified golf clubs available online at 2ndswing.com. 2nd Swing also has retail locations in Minneapolis and Minnetonka, MN.
###