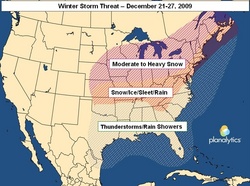 According to the National Retail Federation, 40% of a store's revenue is generated in the months of November and December. We provide our clients with the tools to ensure that all of their sites are prepared for those heavy shopping and heavy snow months.
Norristown, PA (PRWEB) December 19, 2009
The dismal economy isn't the only factor retailers need to be concerned with this holiday season. According to Planalytics, the single global resource of Business Weather Intelligence®, "The upcoming weekend (December 19-20), snow is expected up the Atlantic seaboard into New York & Boston, with the heaviest amounts anticipated in Mid-Atlantic region from Richmond, VA up to Baltimore and Philadelphia." This Super Saturday is anticipated to bring retailers the highest sales so far this holiday season, but with the impending snow storm slated to arrive Saturday morning, businesses have gone into panic mode. For USM, one of the nation's largest facilities maintenance and management solutions companies, with a specialty in snow & ice management, Christmas has come early. USM, along with their emergency project management teams, allow for quick responses in mobilizing their crews, which will help ensure their retail clients remain open, clear and safe to maximize revenue generation throughout this crucial shopping weekend.
USM Certified Snow Professional, Sean Hartnett, stated, "According to the National Retail Federation, 40% of a store's revenue is generated in the months of November and December. We provide our clients with the tools to ensure that all of their sites are prepared for those heavy shopping and heavy snow months."
USM suggest retailers confirm that their snow provider is prepared for the upcoming storm with adequate equipment and materials, that they ensure the lot is properly staked to avoid property damage and help shoppers navigate the lot, that they have de-icer available at the store for application between snow plow visits, and that they ensure fresh mats are at all entrances to reduce slush, snow, water and chemicals being tracked into the store to help avoid slip and falls. And customer and employee safety is paramount. Retailers can't afford to have holiday shoppers slipping and injuring themselves at their stores. According to Jury Verdict Research®, the average award for individuals injured at a retail store is $220,730 in claims costs alone. That doesn't include legal expenses for time and processing or litigation.
Six of the top ten national retailers depend on USM to uphold a consistent brand image and improve their customers' in-store experience with facilities maintenance and management solutions. USM delivers non-core, yet mission critical interior and exterior facility services to over 80,000 client sites throughout North America in various industries with geographically dispersed assets including retail, restaurants, banking, real estate investment trusts, education, telecommunications, and utilities. USM Services
On a day-to-day basis, weather is the most volatile external factor influencing consumer and market behavior. Because it is uncontrollably and constantly changing, businesses must deal with a continuously shifting array of opportunities and risks. The impact on revenues, costs and a company's brand image is substantial and could be make or break for retailers this holiday season.
The snow is expected to beginning early Saturday morning and end Sunday.
It is extremely important for retailers to keep their facilities clear to ensure a safe atmosphere for customers and employees, especially on "Super Saturday," the last Saturday to shop before Christmas. This impending storm could potentially disrupt store traffic and sales. "It's a huge net negative for business on one of the biggest shopping days of the year," said Evan Gold, senior vice president of client services for Planalytics. If retailers do not keep their lots clear and are forced to close their doors due to bad weather conditions, it can cause detrimental effects in their revenue and reputation, especially over the holiday season. "By pre-treating their parking lots and taking a proactive approach to impending weather, retailers can significantly reduce their snow & ice management costs and snow's negative impact on their brand," said Hartnett.
USM, in conjunction with Planalytics, has the capability and technology to help retailers minimize the negative impact snow has on their bottom line and maximize the potential to capture crucial weather-driven revenue generation activities. With Planalytics' state-of-the-art weather tracking technology, USM is able to stay ahead of impending storm systems and remain prepared to meet retailer's needs.
*USM experts are available for comment or for interview - please call Jamie Joffe at 610.941.4222.
Planalytics Chief Meteorologist, Jeff Doran, and USM Certified Snow Professional, Sean Hartnett, provide an outlook for the holiday season and how weather-driven demand intelligence in conjunction with best practices in snow & ice removal can be incorporated into planning, distribution, marketing, pricing and the decision making processes.
###