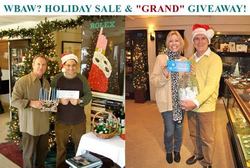 Annual Holiday Sale and "GRAND" Giveaway!
West Hollywood, CA (PRWEB) December 20, 2009
During the Holiday shopping season 4 weekly drawings each for a $1,000 WBAW? gift certificate will be held. Enter online on in their shop for weekly drawings and up to 4 chances to win. No purchase necessary.
Use the certificate toward a great vintage custom colored dial Rolex, an antique engagement ring, or any of their other fabulous vintage and contemporary watch or estate jewelry item.
WBAW? has the distinction of being one of the most popular vintage watch stores in America! It has been attracting customers to its store on fashionable Melrose Avenue in Los Angeles for over 20 years. Throughout these years it has earned a great reputation for the vast selection, diversity and truly unsurpassed beauty of its selection of vintage watches.
But WBAW? is no longer distinguished just by its vintage watch collection. The selection of watches at WBAW? also includes countless examples of modern Swiss watches produced by the most renowned of Swiss makers, including Rolex, Cartier, Omega, Patek Philippe, Franck Muller and many others. These contemporary examples of Swiss technology and design are selected for their quality, and popularity and are favorably priced to offer exceptional value.
The Antique Diamond Ring Collection
WBAW? now hosts a truly fabulous collection of hundreds of one of a kind antique platinum diamond rings, wedding bands, and anniversary bands. These are not reproduction pieces, but the original gorgeous Edwardian, Art Deco, Retro, and Moderne style pieces made in platinum from "la belle époque" of the early 1900's through the postwar 1940's.
The WBAW? collection under $1000 of original white gold or yellow gold diamond rings circa 1900's to the 1950's. Modestly priced rings with smaller center diamonds, but featuring the fine detail, charm, and beauty found only in antique settings. We like to call this our "small but mighty" collection!
Store hours, Mon-Sat 11-6. Closed Sunday & Monday.
8465 Melrose Los Angeles, CA 90069
(just east of La Cienega, north side of the street)
Call 1-323-659-0467 for extended store hours.
Details on their website http://www.wannabuyawatch.com
# # #