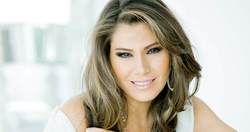 Greensboro, NC (PRWEB) December 19, 2009
Loren Ridinger, Senior Vice President of Market America, Creative Director of Motives® by Loren Ridinger and Cellular Laboratories, and Publisher of the popular blog myfashioncents.com has won the "Love this Site" award for style on divinecaroline.com.
Winners were selected by divinecaroline.com readers who were permitted to vote for one website in nine categories (style, relationships, parenting, home & food, body & soul, travel, career &money, play, neighborhood & world). Myfashioncents.com received over 700 more votes than the second place website in the style category.
"What makes this type of recognition special is that it comes from readers who are loyal and expect only the best," said Ridinger. "The goal of myfashioncents.com since it was launched in 2008 is to help the average beauty conscience consumer find the hottest fashions from rodeo drive and fifth avenue that are worn by today's biggest celebrities at main street prices."
Ridinger, who founded the shopping website marketamerica.com with husband JR Ridinger in 1992 has long been hailed for her expertise in online shopping, fashions, and her own personal style. Since launching Motives by Loren Ridinger a little over a year ago, sales have increased by over 400 percent and she was recently named a Woman Extraordinaire by Business Leader Magazine. For more information about myfashioncents.com's recognition visit divinecaroline.com. To learn about the best shopping deals on the Internet, get fashion and beauty advice, and stay updated on all the latest Loren Ridinger and Motives news go to myfashioncents.com.
ABOUT MARKET AMERICA
Market America is a product brokerage and Internet marketing company that specializes in One-One-Marketing. With more than six million customers and 180,000 Customer Managers worldwide, the company has generated over $3 billion in accumulated retail sales. Headquartered in Greensboro, NC – the company was founded in 1992 by president and CEO James Ridinger and employs over 500 people globally with international operations in the United States, Canada, Taiwan, Hong Kong and Australia. Through its revolutionary One-to-One Marketing concept, Market America combines the Internet with the power of people – creating the ultimate online shopping destination. More information is available at marketamerica.com.
# # #