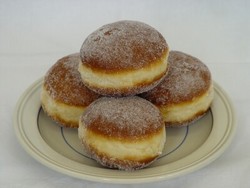 The Jelly Donut Awards pay tribute to one of the most infamous translation errors in US history: John F. Kennedy's pronouncement 'Ich bin ein Berliner.'
New York, NY (PRWEB) December 21, 2009
Translation was a hot topic in 2009, but sometimes for the wrong reasons.
That's why Accredited Language Services, a US-based translation company, announces the first annual Jelly Donut Awards – recapping the top 5 real translation, interpreting and localization errors of the year.
The Jelly Donut Awards pay tribute to one of the most infamous translation errors in US history: John F. Kennedy's pronouncement "Ich bin ein Berliner." Although Kennedy intended to express empathy for the citizens of Berlin, his German phrase actually translated to "I am a jelly donut."
From the highest levels of international politics to the ad campaigns of multinational corporations, 2009 saw some big translation errors – all of which could have been prevented by professional, accurate translation services.
#5. Unexpected Gifts
When a South Korean government representative visited Russia, he commented on the beauty of the endangered Siberian tigers of Eastern Russia. "Korea is very interested in Siberian tigers," he told Vladimir Kirillov, head of Natural Resources Management.
But Kirillov heard a very different message. The Russian/Korean interpreter told him that South Korea was asking Kirillov to consider donating a tiger instead. Kirillov proposed the gift upon his return to Russia, and the tiger is now living in the wilds of South Korea - all because of a translation error!
#4. Game Over
Fans of the controversial – and resoundingly popular – game "Call of Duty: Modern Warfare 2" might be confused by a translation error in the Japanese release.
In the American version, the Russian villain Vladimir Mararov organizes a massacre at a Russian airport. (Spoiler alert!) The player's character, an undercover CIA agent, is instructed not to speak Russian, since Mararov intends to frame the Americans for the attack.
But in Japan, Mararov's line, "Remember, no Russian," was translated as "Kill 'em; they're Russians." The translation error did not properly set up Mararov's plan to frame the Americans and left Japanese players confused as to why Mararov kills their CIA character and leaves his body and CIA identification at the scene of the crime.
#3. Look Before You Cross
Visitors to Wales should make sure to look both ways before they cross the street, thanks to a translation error in Cardiff. A temporary road sign this summer cautioned English-speaking pedestrians to "look left" to avoid dangerous road hazards.
The problem? The sign was translated for Welsh readers as "cerddwyr edrychwch i'r dde" – "pedestrians look right." Luckily, no Welsh speakers were harmed in the making of this translation error.
#2. Microsoft Misjudgment
Microsoft's error in a website for Polish businesses became national news this summer. Although the translation of the ad copy was accurate, the company's localization experts altered the photo accompanying the ad to "adapt" the graphic for Poland.
The original ad featured three racially diverse people sitting around a conference table, but the Polish ad replaced an African-American man's face with a Caucasian one. How did people catch on? The man's hand hadn't been changed.
#1. Translation Overload
During a foreign policy meeting between American and Russian leaders in March, US Secretary of State Hillary Rodham Clinton presented Russian Foreign Minister Sergey Lavrov with a "reset button," representing the erasure of past tension between the two countries.
But the English word "reset" had been translated to the Russian "peregruzka" - meaning "overcharged" or "overloaded." The photo op of the two politicians pressing the button lost its international significance - and instead became a global joke thanks to the translation error
Stay tuned for the winners of next years' awards – but avoid becoming one of them. Professional, accurate translation services like those provided by Accredited Language Services can help anyone avoid next year's big translation error.
About Accredited Language Services:
Accredited Language Services provided translation, transcription, interpreting, conference and multimedia services for more than 25 years. Fortune 500 companies, technology firms, advertising agencies, government offices, hospitals, banks, law firms and private individuals rely on the professional language solutions from ALS in 150+ languages and dialects.
###