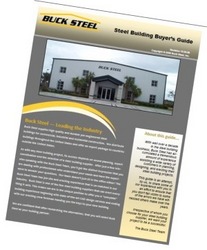 many suppliers have little or no knowledge of the steel building business and simply use high-pressure sales techniques
Los Angeles, CA (PRWEB) December 21, 2009
Available at Buck Steel, the Steel Building Buyer`s guide is free of charge and should prove valuable to anyone about to embark upon a steel building project.
While often mischaracterized as a simple purchase, even a small steel building project can bring with it a surprising number of decisions that need to be made, many of which are influenced by local building codes. Buck Steel has developed a guide for both experienced and first-time steel building buyers.
With the advent of the internet, the number of steel building suppliers has exploded over the past few years. Unfortunately, many of these suppliers have little or no knowledge of the steel building business and simply use high-pressure sales techniques to write orders and obtain deposits. The Buck Steel Buyer's Guide attempts to educated prospective steel building buyers so that they are aware of the unscrupulous techniques used by some steel building suppliers. Additionally, the guide educates buyers on what to look for when comparing quotes from different steel building suppliers.
The steel building buying process also brings with it its own terminology. Our Steel Buildings Buyer's Guide attempts to review some of the common terms that a prospective buyer is apt to encounter. Anchor bolt plans, foundation drawings, live load, snow load, windlock certified, full cover trim, trim package, are some of the terms reviewed and explained in the guide.
"We understand that a steel building is a serious project that should not be undertaken without proper research. A steel building could last for decades, but only if properly designed and engineered for the customers location. The Buck Steel Buyer's Guide is designed to share some of our decade-long experience with our prospective customers so that they can make an informed purchasing decision." - The Buck Steel Team.
The Steel Building Buyer's Guide is totally free and is available to anyone interested; just fill in the form available at http://www.bucksteel.com/bgregistration.html and the guide will be emailed to you.
About Buck Steel.
Buck Steel supplies superior quality pre-engineered steel buildings for commercial, industrial, and residential construction. Buck Steel distributes buildings throughout the United States and offers an export package for international customers. Buck Steel can erect everything it sells – which means that it is in a unique position to offer its customers a "complete" building experience beginning with access to experience design engineers, state-of-the-art CAD design services, and ending with Buck Steel's erecting crew foreman handing the customer the keys to their new building!
Contacts:

US Toll-Free: Tel (866) 574-2825
California: Tel (209) 230-9454, Fax (209) 762-6866
Florida: Tel (954) 725-8883, Fax (954) 756-7180
Georgia: Tel (404) 602-0162, Fax (404) 921-9568
New York: Tel (315) 371-4791, Fax (315) 679-4797
###