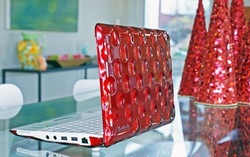 San Francisco, CA (PRWEB) December 21, 2009
Tim Hickman, who started and ran Speck Products, announced today he will exhibit products from Hard Candy Cases, a new computer accessory company, at the Consumer Electronics Show (CES) in the Las Vegas Convention Center from January 7-10, 2010. Hard Candy Cases is the first company to create fashionable and protective hard shells for netbook computers, a projected multi-million dollar industry.
Hard Candy Cases sweet spot will be located in the iLounge Pavilion (Booth #3523) and will feature samples from the Bubble Shell line, recently made available at http://www.HardCandyCases.com and major retailers nationwide. The vibrant, "candy-coated" line protects the newest MacBook 13" white unibody (and Pro version), popular netbooks Asus Eee PC 10.1" 1005HA and the Acer One 10.1" D250, as well as the HP Mini 10.1, with additional models rolling out through 2010.
"The Consumer Electronics Show is our first opportunity to show off the stunning Bubble Shell Product line from Hard Candy Cases face-to-face with retailers and media. We can't wait to share this new line, as well as talk about the eye-candy we have planned for 2010," said Tim Hickman, CEO of Hard Candy Cases.
For on-site media inquiries, interviews and product samples, please contact Debbie Park, publicity for Hard Candy Cases, at 720-224-2424 or Debbie (at) HardCandyCases.com. Sales and retailer advance appointment inquiries should be directed to sales (at) HardCandyCases.com, or by stopping by the Hard Candy Cases booth.
About Hard Candy Cases
Founded in 2009, Danville, CA-based Hard Candy Cases is a new company from computer accessory veteran Tim Hickman, who started and ran Speck Products, an early entrant into the lucrative iPod case category Hard Candy Cases merges fashion and function to distinguish and protect mobile computers from the wear and tear of daily use. Additional information can be found at http://www.hardcandycases.com.
###