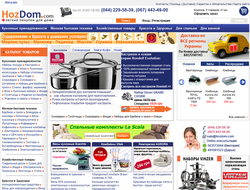 Ukraine house-owners got the first online supermarket www.Hozdom.com
Scarborough, ME (PRWEB) December 21, 2009
The first online store for household goods Hozdom.com has been recently launched in Ukraine. From now on, a single resource offers small appliances, kitchen-wares, bathroom accessories, bed linens, household items as well as beauty and health products.
There is no need to go to supermarkets and shops or search for a product on different online resources. Online store HozDom.com offers wide range of household goods in accordance with most popular online search requests of small appliances.
Daria Lukash, Vendor Relations Manager, HozDom.com, says: "Several years of experience in online-trade allowed us to build up full structure with business focused on wholesale and retail trade in household goods. Close cooperation with vendors enables us to offer complete range of products at attractive prices."
Technical functionality of the online store Hozdom.com is realized on the specially developed platform having no equivalent in Ukraine. Main functions include filtering, quick search, comparison, rating and feedback, classifier and other. Besides, each brand has separate page with related products, all information is classified in a catalogue with categories, most popular products, new products kitchen wares and special offers.
Victoria Golovko, Customer Relations Manager, points out: "We decided to make Customer Service our priority number one. Managers are available via all popular channels: online consultancy, telephone, e-mail, icq and other. Technical capabilities of the store allow us to constantly widen our range of services and scope of customer service."
In the nearest future store owners plan to organize delivery service covering all regional centers of Ukraine. Besides, process of product choice will be optimized and integrated informational customer support will be established.
Household goods: kitchen-ware and household items. Online store http://www.Hozdom.com.
###