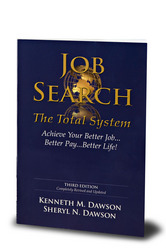 If you are a party animal, it is easy. If you tend to stay at home and watch the Christmas shows and movies, you may need to adjust your routine.
Houston, TX (Vocus) December 21, 2009
When looking for a job during the holidays, it can be depressing especially in this tough job market. Sheryl Dawson, co-author of Job Search: The Total System and COO of Total Career Success, Inc., encourages job seekers, "Pick up your spirits by following these twelve strategies for increasing your success at job search in the holiday season." Reflecting the traditional song of the season, Dawson shared 12 tips to succeed at networking during the holiday season:
Twelve Referral Names
Networking during the holidays is a natural. Dawson observed, "If you are a party animal, it is easy. If you tend to stay at home and watch the Christmas shows and movies, you may need to adjust your routine." Set a goal of achieving 12 referrals a week. That means getting on the phone and calling contacts. Wishing them a merry Christmas is reason enough to call, but check out their website and see what is going on in their company. Discuss topics of interest to them. Always ask for referrals before closing the conversation.
Eleven Christmas Notes
What better time than Christmas to send out cards, notes or email to keep in touch with one's network. Eleven notes is just the beginning – set goals of 11 a day and really make some progress! Ask about their business and lives as appropriate and in turn they will be interested to know what's new in the caller's world. If they have done something to help the job seeker, thanking them is a must.
Ten Cold Calls
Depending on the job seeker's location in the country, this can be a cold season in temperature, but when it comes to cold calling, it often feels frigid no matter where one lives! Dawson shares, "People will do everything in their creative powers to avoid cold calls. I do not blame them – it is the least favorite task in the job search for most people."
Even sales people hate cold calling. When one has done everything possible to warm up a call or contact, sometimes picking up the phone is essential to make the connection. Once again, set a goal for cold calls needed to gain access to targeted companies – maybe 10 a week is all that is required to advance one's target list. Dawson shared a favorite client story when an introverted research chemist was in a job search. He could not seem to build up the courage to call people. Then one day he tried it and was thrilled when he got an immediate interview and ultimately an offer. That will not happen on every cold call, but without making the call, one may never know what leads were missed.
Nine Letters Mailed
Snail mail is not the favorite way of communicating in the age of e-mail, but there are times when a letter is appropriate. If one does not know the person well, or cannot get their email address or they ask to receive the resume by mail, then send a letter with resume. Emailing counts too, of course – if they ask for the resume by email, one should include a letter. A formal letter is best so they can scan it if they like, or print it and share it. Write form letters that have been carefully worded and proofed to save time. Customize the first and last paragraphs as appropriate and have a professional look and feel. Be cautious with email notes – they are as important to one's image and brand, so write them with equal care.
Eight Network Contacts
All of the various networking strategies will lead to contacts, but have a goal for expanding one's network. Perhaps 8 a day is attainable. Dawson emphasized, "If you do not have any goal, you will likely have less success."
Research proves that written goals increase success by 65%! One's contacts are the life blood of a job search. Treat them with respect and courtesy. Touch base frequently asking them what can be done to help them. The amazing benefits of reciprocity can put one's job search into high gear.
Seven Follow up Email
Follow up, follow up, and follow up -- that is the name of the game. If one knows about something that is happening in someone's company or industry – follow up. If aware of a new development about which a contact may be interested – follow up. If one has not connected with someone in awhile – follow up. Email is usually a great way to do this and it can be sent at any time. This is a productive way to use evening and weekend times. Do not over rely on email and do not follow up too frequently or contacts may be annoyed. Be considerate of other's time. Dawson stressed, "Whatever you do, do not send group email. There are times group email can be appropriate, but job search is usually not one of them."
Six Returned Calls
Not returning calls is definitely poor etiquette. Be prompt in returning calls. When receiving contact from an unfamiliar name, checking one's target list of contacts as a reminder of the relationship, or how one got the person's name, or whether a letter or email was sent, is essential to avoid being caught off guard and out of the know.
Five Christmas Parties
Dawson shared, "If you like parties, five may be a low goal, but the point is don't avoid parties because you are not employed." Face-to-face networking is the best of all networking strategies. Go to breakfast, lunch and dinner networking sessions and association meetings as much as possible. Go prepared with some information to share. Be the joy of the party – no negatives! People are there to have a good time and celebrate the season. Ask about them, their family, and their work. People love to talk about themselves. There will be opportunity to share about one's job search and then, following up about areas of mutual interest can lead to new referrals.
Four Reference Letters
What do reference letters have to do with networking? Declares Dawson, "People who are references for you are some of your best contacts. They should be on top of your network list." Written references advance one's networking and job search success by validating one's accomplishments. References from a boss, bosses' boss or colleague and a direct report are excellent. Also consider vendors, internal clients, external clients, professional relationships, such as banker, lawyer, or accountant, if they know one's work, are also excellent.
Three Interviews
Obviously networking leads to interviews sooner or later. The more networking, the more interviews. Set a goal for interviews and one's networking proportionately expands. It is a real motivator to obtain an interview. If the opportunity does not work out, one can convert interview contacts into network contacts. When landing an interview, be fully prepared with knowledge of the company, the interviewers and the industry. Of course, preparing responses to likely questions is essential.
Two Job Offers
Set a goal for job offers too. Dawson emphasized, "The goal for every interview should be to get the offer." Planning and preparation is the key to getting the offer. Less qualified candidates can get the offer because they are better prepared than the competition. Obtaining two offers simultaneously is all the better. One can use them as leverage for negotiations.
States Dawson, "Compare them and select the best opportunity among all offers to ensure not only landing "A" job, but a better job for better pay."
An A+ Resume
One will likely not be able to network effectively, get the interview, or get the offer, without an excellent resume. Draft a 2-page chronological resume that reflects all one's major accomplishments with quantified results. This will build confidence in networking and result in more contacts and more interviews that will lead to more offers. Dawson exclaimed, "The drive wheel of networking, an A+ resume is equivalent to the Partridge in a pear tree – priceless!"
About Total Career Success
Total Career Success, Inc. is an internet career transition firm offering products and services to help people worldwide achieve their job search and career aspirations. Ken Dawson and Sheryl Dawson are the principals of Total Career Success and authors of Job Search: The Total System, 3rd edition. They have served corporations in outplacement and career development as well as talent management optimization for 30 years in their consulting firm Dawson Consulting Group. Ken and Sheryl Dawson also host a weekly internet radio show, Total Career Success which is broadcast on VoiceAmerica, the world leader in Internet Talk Radio, and syndicated on World Talk Radio; the show aims to engage listeners in new ways of thinking about their potential, their goals, and their future. The show presents guests who are experts in their fields to share the lessons they have learned in succeeding in their various areas of excellence and to discuss tips about a broad range of career development issues, from specific career opportunities, to industries and workplace changes, to financial and advancement considerations. The show airs Mondays at 11:00am Central. The archived shows are available for replay or download at the Total Career Success website, or from iTunes http://www.itunes.com/podcast?id=311541702 For more information, visit totalcareersuccess.com or voiceamerica.com and search for Total Career Success.
###