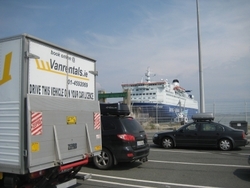 In the last week we have put 6 hire vans and 4 trucks into Europe with people relocating, it's quite unprecedented
(PRWEB) December 22, 2009
It's a typical December morning in Dublin, Ireland, overcast with the prospect of rain. A young man starts up a white hire truck and looks over the unfamiliar controls. The GPS unit he has placed on the windscreen is not there to bring him to some suburb of Dublin or some outlying town but rather to Rosslare, Ireland's principle port for travelling to mainland Europe.
In the preceding 18 months Ireland has had its worst fears realised and the spectre of returning emigration has become a reality. Unemployment has passed the 12.5% mark, the second highest in Europe and is showing no signs of improving. The only spin the government can offer is that the pace of job losses is decreasing, although this can be attributed to there being far less people with actual jobs to lose. The huge surge in the number of unemployed has put a huge strain on government finances, resulting in almost one third of all spending being allocated to social welfare.
Bob Quinn, the driver of the hire truck, is a typical mid 30's Dubliner who has recently become unemployed. He worked for a large multi franchise car dealer in Dublin as a sales manager until 6 months ago when the company culled half of its staff. According to Bob, "As soon as the banks stopped lending, car sales fell off a cliff and I found myself selling a fraction of what I previously did." He wasn't surprised when the call came from upstairs.
Ireland's banks cut off their credit supply about 16 months ago, with so little liquidity in the economy, business has been very tough and layoffs widespread. What is different in Ireland is the speed and severity of the decline. Here was a country which was fed cheap credit for the last 10 years and developed a taste for luxury goods, cars and overseas property. Businesses that sprung up to meet those needs have found scant current demand for their services.
"The outbound hire business is very strong now," according to Michael Shanahan, sales manager for online truck hire operator Vanrentals.ie. "In the last week we have put 6 hire vans and 4 trucks into Europe with people relocating, it's quite unprecedented". This is a real turnaround; with Ireland's property boom came the appetite for foreign property. Irish investors could be found in every European city putting down deposits on off plan developments and second homes. "We did a huge trade in European truck hire; people would load up a truck and drive into Europe to set up their second homes or investment properties". Vanrentals.ie are well set up to cater to the needs of Europe bound customers. Insurance is provided on all vehicles along with full European breakdown and recovery assistance
Now the young Irish are now packing up their belongings and looking for opportunity elsewhere. Bob Quinn considers himself lucky; he has no mortgage and a French wife from Lyon. "Because I do not own a home, i can go where the work is; I speak French so the decision to move was logical."
Despite the most European economies also suffering, it seems Ireland's woes will be more prolonged that her neighbours. Many Irish economists worry about Ireland's capacity for repayment when the ECB (European Central Bank) raises its interest rates, something which is inevitable once mainland Europe hits its stride again. Michael Shanahan is hopeful for a recovery in the Irish Economy and reckons that when a recovery comes, his vehicles will be bringing people back from Europe to brighter job prospects in Ireland.
http://www.vanrentals.ie area commercial vehicle providers in Dublin, Ireland. John Murphy is the commercial manager and can be contacted at info(at)vanrentals(dot)ie
###