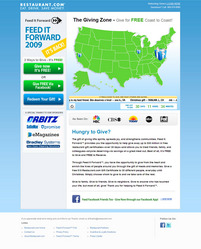 My family has really been hit by the economic downturn. These free gift certificates give us the opportunity to say thanks to our friends and family members for their never-ending support.
Arlington Heights, IL (PRWEB) December 21, 2009
Restaurant.com is stoking a "fire" for giving this chilly holiday season by sharing some of the warm notes sent in by "Feed It Forward" participants. On Thanksgiving, the company launched the Feed It Forward initiative, which enables individuals nationwide to give away up to 30 free, $10 gift certificates through Christmas. Now, with five days left, participants still have the opportunity to give up to $300 in gift certificates per day, or $1,500 over five days to friends, family and loved ones.
Feed It Forward participants recently passed the milestone of giving away more than $8 million worth of gift certificates--for free--through the Feed It Forward giving site, http://www.Restaurant.com/FeedItForward. Stocked with a total of $30 million in gift certificates valid for more than 6,500 restaurants nationwide, the site has empowered people to share the gift certificates along with goodwill, good fortune and good food during the holidays.
In response to the initiative, letters from participants from across the country have arrived by the thousands, detailing moving stories of holiday giving inspiration. Restaurant.com offers 10 reasons why "Feed It Forward" participants have shared their gift certificates with others.
1) Say thank you to those who have been supportive during the recession. Norma L. from Tennessee writes, "My family has really been hit by the economic downturn. These free gift certificates give us the opportunity to say thanks to our friends and family members for their never-ending support."
2) Thank volunteers who dedicate their time to serving others. Kim B. from Washington writes, "We have an all-volunteer organization and have used Feed It Forward to say thank you to them for all they've done for us. We are a very small organization with only one employee with a very, very small budget, so this has really worked out well!"
3) Extend holiday gift lists cut short by recent layoffs. Rhonda W. from Indiana writes, "Our family income has been cut 70% this year due to a layoff and increased medical expenses. With this gift, I was able to give to all my co-workers and other special people who weren't able to make my holiday list this year."
4) Spend precious time with soldiers who will soon be deployed. Suzanne U. from Pennsylvania writes, "I not only gave certificates, I also received quite a few! I will take my son, who will soon deploy to Afghanistan, to lunch to enjoy my final moments with him."
5) Re-connect with friends and family across the country. Tim M. from New York writes, "What a terrific idea! I received a certificate from a relative in Ohio who I've lost touch with. I look forward to sending a certificate to anyone in the country who has a computer. Thank you for this service as it allows me to connect with family I don't get to see during the holidays."
6) Let hardworking parents know they are appreciated. John Z. from Texas writes, "I have several friends who are single mothers who are struggling to pay bills. Going out for dinner is not a luxury they can afford, so thanks for giving them a chance."
7) Stimulate the economy and drive business to local restaurants. Christine C. from Florida writes, "What a creative way to stimulate the economy! I look forward to supporting local restaurants in my area with the certificates I've received."
8) Celebrate traditions through sharing a meal. Joi H. from Hawaii writes, "I am Hawaiian and we believe in the concept of sharing Aloha (Love). One way is with meals. Thank you for letting me give love to others through Feed It Forward."
9) Share holiday cheer with co-workers in spite of corporate cutbacks. Mary P. of California writes, "Our office is participating in Feed It Forward since our company had to eliminate holiday parties and also just made pay cuts. This is a great way for us to be able to afford to still do something for the holidays together as co-workers."
10) Embrace the spirit of the holidays and celebrate that it is "better to give than receive." Annette G. from Florida writes, "It's always a great feeling to be able to give to others without expecting anything in return! That's what holiday giving is all about!"
Through Feed It Forward, gift certificates are sent via email to recipients and do not require shipping or mailing. On a first come, first serve basis, gift givers can choose as many as 30 different people to give to every day until Dec. 25 at 11:59 pm PST. Gift recipients decide where to dine among more than 6,500 participating Restaurant.com restaurants nationwide. Visit http://www.Restaurant.com/FeedItForward to participate and learn more about Feed It Forward.
Online Media Release with Video, Images and Press Release available:
http://www.a-1broadcast.com/onlinemediarelease/feeditforward.html
###