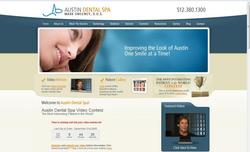 Austin, TX (Vocus) December 21, 2009
Austin Dental Spa, an Austin, Texas cosmetic dentistry practice, is getting ready to let the world know who is The Most Interesting Dental Patient in the World. Since late October, the practice has been accepting video submissions from contestants all over the region who are competing for a complete dental makeover worth up to $15,000. Participants are asked to videotape themselves describing why they are the most interesting dental patient, and are being judged on creativity and entertainment value. Dr. Mark Sweeney, the head of Austin Dental Spa says there are only 10 days left to enter the contest – December 31st, 2009 is the final day submissions will be accepted.
Offering teeth whitening, dental implants, and porcelain dental veneers in Austin, Texas, Dr. Sweeney is one of the most prominent cosmetic dentists in the region. Recognized as The Most Interesting Dentist in the World, Dr. Sweeney decided to sponsor a video contest to see if he could find the Most Interesting Patient. The winner of the contest will be chosen by an online vote, and the prize consists of a variety of dental treatments that can significantly improve the appearance of the teeth. Contestants are asked to come up with a video showing why they are the most interesting dental patient, and why they are deserving of a smile makeover. After December 31st, the top three finalists's videos, chosen by the practice, will be uploaded to Austin Dental Spa's website, as well as its Facebook and YouTube pages. Voting begins on January 6th, 2010 and ends on January 22nd, 2010. The winner is announced on January 27th.
Videos should be under five minutes (and G-rated). The smile makeover prize will go only to the winning entry; however, Dr. Sweeney says everyone who submits a video will receive an Austin teeth whitening treatment, valued up to $600.
About Mark Sweeney, DDS
Dr. Mark Sweeney is a member of the Academy of General Dentistry, the American Academy of Cosmetic Dentistry, the American Dental Association, the American Endodontic Society, the Texas Dental Association, the Capital Area Dental Society, and the Academy of Comprehensive Esthetics. He is a graduate of the university of Texas at Austin, an has been practicing cosmetic dentistry in the Austin area for more than 30 years.
For more information on The Most Interesting Dental Patient in the World contest - as well as contest rules, terms, and conditions - details can be found at austindentalspa.com. The practice can reached at 3305 Northland, Suite 515, Austin, Texas 78731 – (512) 380-1300.
###