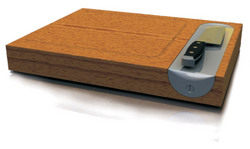 "With the new line, we wanted to introduce new and innovative products to the market rather than just continue with the old standbys found in most retail stores"
Atlanta, GA (PRWEB) December 21, 2009
Culmeta, a leading provider of gourmet kitchenware and housewares, today launched a new line of feature-driven cutting boards made from environmentally friendly materials. Developed for Culmeta by talented industrial designer Mark Trebicki, the high-end line combines functionality with contemporary aesthetics.
Consisting of eight distinctive designs, the line boasts features such as food-grade rubber pads that grip counter surfaces, a powerful internal magnet to hold knives and other utensils, and hand-carved troughs for capturing juice and food particles. As opposed to similar plastic products, the Culmeta rubberwood and bamboo cutting boards also offer durability, strength and a natural resistance to bacteria and germs.
Each cutting board honors the style and character of places throughout the company's home state of Georgia with product names including the Savannah, Palmetto, Santilla, Toccoa, Chattahoochee, Apalachee, Tallapoosa and Hiawasee.
"With the new line, we wanted to introduce new and innovative products to the market rather than just continue with the old standbys found in most retail stores," explained Culmeta Business Manager Michael Fenton. "The line consists of unique, modern cutting boards that you will want to both use on a daily basis and show off to your house guests when entertaining."
Culmeta initially introduced prototypes of the designs at the July 2009 Atlanta International Gift and Home Furnishings Market to much excitement from show attendees, and the company has thus established wholesale pricing for the new line to accommodate kitchenware and housewares retailers.
When selecting raw materials for the cutting boards, Culmeta actively researched and pursued components that would be the least harmful to the planet and customers. The research led Culmeta's Operations Manager Benjamin Chiang to embark on a comprehensive tour across Southeast Asia to find a rubberwood and bamboo processing facility that fit with the company's vision. After a rigorous selection process, Culmeta elected to partner with an established and respected housewares factory in Thailand. In order to further improve Culmeta's earth-friendly business model, Fenton noted that the company also hopes to develop a carbon scorecard for its products to determine best practices in terms of ecological sustainability.
Culmeta is an innovative provider of gourmet kitchenware and housewares dedicated to the idea that your home is not only a place to relax and entertain friends and family but also your canvas for self-expression. Culmeta provides products and inspiration that spark your creativity and give you the means to exhibit your own unique style of living.
The Culmeta brand eschews the ordinary, delivering the promise of contemporary, natural vision for your home. Culmeta products are durable, aesthetically pleasing and made from sustainable, earth-friendly materials. The Culmeta experience is defined by our commitment to deliver a total package of first-rate home furnishings, modern style and environmental responsibility. Learn more at http://www.culmeta.com.
###