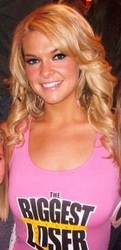 America's Choice Amanda Arlauskas wants to make a difference. Her appearance on NBC's hit show "The Biggest Loser" has inspired many young adults who have gained unhealthy weight due to poor nutrition to start exploring healthier eating and exercise habit
New York, NY (PRWEB) December 22, 2009
America's Choice Amanda Arlauskas wants to make a difference. Her appearance on NBC's hit show "The Biggest Loser" has inspired many young adults who have gained unhealthy weight due to poor nutrition to start exploring healthier eating and exercise habits that can help them live longer, healthier and happier lives.
Arlauskas is the latest Prime Time Reality Star to join MMG's Celebrity Group. Jeff Cohen, President of MMG (http://www.nymmg.com) believes Amanda will not only have national appeal but international appeal as well. Plans already are being finalized for Arlauskas to tour inner city schools nationally with medical experts and nutritionists in an effort to stem the tide of child obesity a rapidly growing problem in America. Arlauskas will also appear on future NBC programming and participate in motivational speaking engagements for educational and corporate America.
On another front, Reality TV Stars Sheena Santana, Ebony Haith and Lisa Ramos of America's Next Top Model continue to be in high demand for speaking engagements, episodic's and high end advertising jobs. Sheena appeared on Gossip girl and auditioned for Victoria Secrets and is the focus on a new documentary about the world of modeling while Ramos received interest from Chanel.
MMG's Dawn Richard (formerly of Danity Kane) and now with songs released with P.Diddy and Dirty Money remains one of MMG's most highly requested celebrities. MMG is also considering bring on a couple of contestants from yet another Reality TV show, "The Pussycat Dolls Present: The Search for the Next Doll. MMG feels that these former contestants are triple threats because they have beauty, and great voice and dance skills.
MMG continues to sign established and up and coming singers/songwriters. Recently MMG's singer, songwriter and producer Courtney Cooper released the video for her new hit single "Pull Me Out my Clothes". The video, featuring a seductive glance into Cooper's unique style, amps up the sex-appeal as she heats things up with another MMG model Edgar Lopez. MMG predicts the video will get a lot of attention, similarly to her prior hit "Let's Get Nasty" with Nitty, featured on radio stations such as Z100 and ranking amongst the top 30 on Sirius XM hits countdown. MMG's American Idol finalist Jared Cotter recently had four of his songs performed and released by Lil Wayne which immediately hit the top of the music charts
MMG's Sheena Santana a finalist from America's Next Top Model also is an amazing singer and many producers have submitted songs to MMG for her review. MMG expects Sheena to be recording one of them shortly. On another note, MMG's Swedish and American Pop Star Anna Sundstrand have been recording a host of new songs the last of which was at the infamous "Richard Perry Studios". The song which was produced by award winning Lauren Wild showcased Anna's amazing voice which has grown both in quality and strength since her days of performing in the group "Play." Although Sundstrand gained valuable experience with "Play" most performers feel groups limit their potential as an individual artist. It is rumored that "Play" will try to make a comeback but without Sundstrand and Rosie Munter. It is not clear how that group will sound with two of the original members not participating. Sundstrand will continue to record as an individual but partner with other artists on a project by project basis. It was clear that two of the original members didn't want to share the limelight with the mature talent of Sundstrand and Munter as both have been recording on their own for the past three years.
MMG's former Ford and Abercrombie Model continues to attract significant attention by New York film and television producers and directors. Recently Amy was selected to participate in a limited and intensive actors training workshop held by world renowned acting coach Margie Haber. Margie Haber's clients include Brad Pitt, Hallie Berry, Kelly Preston among others. Amy is becoming not only an accomplished model but an amazing actress as well. Amy can be seen in several Guiding Light episodes and also on NBC's SNL in a Natalie Portman Short. Amy will grace the television screens with the same beauty and poise she demonstrated on the Paris runways.
MMG became an International Management and Talent Agency in May when it opened MMG Canada in Toronto. MMG Canada expanded its' reach to Vancouver when the Government of British Columbia, granted MMG Canada a Talent Agency License on November 26th. MMG continues to land an impressive amount of major campaigns and its' list of clients include the 2010 Vancouver Olympic sponsors, Pan Am Games, Coca Cola, Virgin Mobile, Braun, Hess, FIFA, TD Trust, Nokia, Bose, Finance Canada and Heineken. MMG's Director of Canadian operations Jessica Martins continues to impress industry executives by addressing needs with innovative practices which provide exceptionally quick and efficient responses to critical casting needs. MMG expects its' Vancouver Agency to grab its' share of popular TV episodic's and Films such as "Twilight".
About Model Management Group (NYMMG)
MMG - Model Management group (NYMMG) is an International Management company and Agency with offices in New York, Toronto and Vancouver. MMG offers clients an extensive list of celebrities, as well as, some of the most exciting new faces available in North America. MMG's roster includes Models and Talent that have landed Abercrombie and Hollister campaigns, Lancôme' Paris, JC Penny, American Eagle, Reebok, Converse, New Balance, Coca Cola, Sprint, World Cup Soccer and have graced publications like Teen Vogue, Seventeen, Women's Health, Cosmopolitan, Elle, and Vogue. Ranked in the top ½ of 1 percent of all television and film management companies in the world by IMDB, Model Management Group is a growing firm that represents clients who constitute a "triple threat" -- the ability to obtain work in the fashion, television and film industries.
###