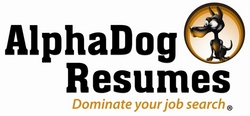 Our Armed Forces deserve our respect for all they do for this country; and, in this economy, one thing that our firm can do is provide affordable resume and cover letter assistance to our military
Ross, CA (PRWEB) December 22, 2009
An online resume writing service, AlphaDogResumes.com, is offering deeply discounted pricing for resume and cover letter advice to active duty U.S. military personnel. The limited time offer gives U.S. active duty military personnel a 33% discount off of the prices of executive, management and professional resume packages sold by the web site.
"Our Armed Forces deserve our respect for all they do for this country; and, in this economy, one thing that our firm can do is provide affordable resume and cover letter assistance to our military," says Michael S. Speas, President of AlphaDog Resumes, Inc.
AlphaDogResumes.com creates personalized resumes and cover letters that help people attract interview callbacks through the use of keywords and phrases, the inclusion of detailed and quantified accomplishments and the avoidance of "hidden disqualifiers." Speas says that the discount offer is effective for orders paid for online through January 31, 2010. The offer applies to members of the Armed Forces, including the Army, Navy, Air Force, Marines and Coast Guard. All that is necessary for active duty military personnel to take advantage of the offer is to submit their existing resume to AlphaDogResumes.com in conjunction with a purchase of one of the three resume and cover letter packages offered by the firm on its web site. Military personnel participating in the offer should make their purchase online as instructed by the web site and then submit their current resume when completing their Background Questionnaire that will be forwarded to them. The web site will then refund the discount to the client.
AlphaDogResumes.com customizes and individualizes three different types of packages of resumes, cover letters and references lists, together with an a la carte menu of additional services and products (such as resume review and custom documents such as lists of references, cover letters, etc.) to fit a variety of budgets and for any industry and experience level. AlphaDog Resumes also customizes job applications for job seekers when they find their "perfect job" openings and provides review and negotiation assistance for legal job offer letters and employment contracts.
Speas is a member of the National Resume Writers Association (NRWA) and the Professional Association of Resume Writers and Career Coaches (PARW/CC), the premier certification associations for the resume writing and career coaching professions.
Satisfaction is guaranteed by the website, which is also currently offering $25 to anyone who refers a resume package client to the firm.
AlphaDog Resumes, Inc. offers premium resume writing and job search services nationwide. Michael S. Speas, President of the company, is a member of the National Resume Writers Association and the Professional Association of Resume Writers and Career Coaches. The company operates principally through a website, AlphaDogResumes.com; and its corporate tagline is "Dominate your job search®." Visit the website for a free resume assessment, together with a free job search newsletter.
Media Contact:
Michael S. Speas
President
877-936-JOBS
(5627)
###