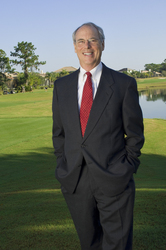 The Florida housing industry has been hit particularly hard by the economic downturn, but we have been extremely encouraged by recent indications that the local market is beginning to correct its course
Lakewood Ranch, FL (Vocus) December 22, 2009
The local housing market continued to show signs of steady recovery as the Lakewood Ranch based Neal Communities secured 24 new contracts for homes in seven different communities last month – including 10 in the new Cruise Series of homes at River Sound. Perhaps even more encouraging was the news that foot traffic through all Neal communities rose 25% over the past month, which has led to continued optimism for December and into 2010. Furthermore, an October report compiled by the Manatee Association of Realtors found that the supply of new homes on the market has continued to decline every month since October 2008, while prices have remained affordable - leading to the recent upward trend.
"The Florida housing industry has been hit particularly hard by the economic downturn, but we have been extremely encouraged by recent indications that the local market is beginning to correct its course," said Pat Neal, president of Neal Communities. "In addition to being a leader in home development and sales, we affect almost 800 jobs in Manatee County on a daily basis, which has a discernable impact on the local economy. We are all very proud of our continued role as a major economic engine in Manatee County."
"As the supply of homes on the market has steadily decreased, demand for new housing – particularly from first time buyers – has begun to push the market forward," added Neal. "We have put ourselves in a position to offer quality, affordable new homes that reflect this trend and we've seen some very promising results."
Neal Communities is ranked #135 among homebuilders in BUILDER Magazine's 2008 national listing based on sales. As the area's largest and most established locally owned and operated private builder, Neal Communities' innovative home building, development and quality customer service standards all contribute to the firm's continued, record-setting local success stories. With more than 39 years and 7,600 homes built in Southwest Florida, Neal Communities' honors and accolades include 44 Aurora Awards, dozens of Parade of Homes Awards, five Best in American Living Awards and hundreds of local and regional industry awards. For more information, visit nealcommunities.com.
###