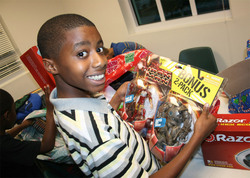 There is nothing worse than a child's cry for help
Fort Lauderdale, FL (Vocus) December 22, 2009
Aldo Disorbo and Nationwide Relocation Services are at it again! The team is actively continuing their involvement in several community based programs. For example, Disorbo will be playing the role of Santa Claus at the local Boys and Girls Club of Broward County.
Disorbo was completely floored when first approached with the number of children residing in Broward County without Christmas presents this year. "There is nothing worse than a child's cry for help," Disorbo said, and immediately began putting together a plan of action.
This holiday season, Disorbo and Nationwide Relocation Services have committed themselves to fulfilling the Christmas wish list of ten children ages 8-12, at the local Boys and Girls Club. Disorbo took their complete Christmas list and donated all the toys they wished for. Disorbo and Nationwide Relocation Services went above and beyond by getting them new clothes to start off their new year. On Wednesday, December 16, 2009, Disorbo and employees from Nationwide Relocation Services personally delivered these gifts to the grateful children.
Nationwide Relocation Services is continuously searching for new and different ways to give back to their community. Nationwide Relocation Services recognizes the importance of bringing awareness to special organizations. These groups are currently doing great things for the community by donating gifts or money, on top of their valuable time.
The Boys and Girls Club of America has positively changed thousands of children's lives since it first opened its doors in 1860. Millions have benefited from these clubs, including the large number of volunteers. Kids today face more challenges than ever before; peer pressure, drugs, gangs, and broken homes have become common characteristics of many neighborhoods. The disadvantages of poor education, low income, and unemployment also contribute to homes that lack proper love and attention. There's a reason that Nationwide Relocation Services is the best at what they do; they care about their local community.
The Boys and Girls Club is a place to get away from society's negative pressures and temptations. It has become a safe place where children can enjoy life again. Services and programs provided focus on education, social recreation, health and physical education. Children are taught leadership and citizenship development, cultural enrichment, and personal adjustment with one-on-one counseling.
In order for The Boys and Girls Club to continue fulfilling their mission and enhancing the quality of life for thousands of children, they need volunteers, like Disorbo and his company Nationwide Relocation Services. There are several ways to volunteer and contribute to such a wonderful cause. Simply visit http://www.bgca.org, to find a club near you and learn how you can participate.
Nationwide Relocation Services is the largest residential and corporate relocation broker in the United States. Their highly trained and knowledgeable moving consultants guide you throughout the whole moving process. They have the expertise to help you with all your moving needs. Nationwide Relocation Services offers local, long-distance, auto-transport, and storage services. They also provide commercial and international moving.
###