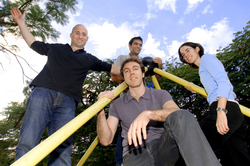 WiseStamp enables users to automatically share their latest Twitter or Facebook statuses, news and blog posts in their email signatures
New York, NY (PRWEB) December 22, 2009
WiseStamp email signatures was declared best Social Media Gadget of 2009 in the Open Web Awards contest organized by Mashable - one of the most influential social media blogs.
The international contest is held annually to review the latest trends and technologies in the field of social media on the web. Among past winners are famous & successful services such as: Facebook, Pandora, iGoogle, Google Maps, Digg, Flickr, YouTube, Twitter, ShareThis, Evernote.
This year, around 70,000 nominees were competing in 50 categories with a total of over 780,000 votes from users worldwide. These numbers reflect the increasing importance of the online social media market.
WiseStamp has competed against popular and well known services such as: Addthis, Sharethis and Digsby.
WiseStamp is an early stage start-up that enables users to transform their email signatures into a powerful self expression and promotional tool. The signatures contain updated dynamic content, allowing the users to share their latest twitter or facebook statuses, news and posts from favorite blogs and their social profiles.
The WiseStamp addon, launched less than a year ago, has been downloaded over 300,000 times and is featured as a recommended addon in the Mozilla gallery.
The young Israeli company of four partners, Josh (Tzvika) Avnery, Orly Izhaki, Sasha Gimelshtein and Tom Piamenta is self funded and in the process of raising a seed round of funding.
###