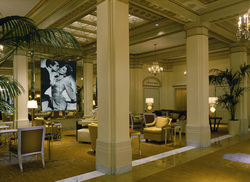 All You Need is Love
Portland, OR (PRWEB) December 22, 2009
Whether you are looking for a sweet, romantic Valentine's day or a night with a twist, this Portland Hotel– will provide just the right romance for you.
The hotel encourages couples to enjoy its "Be My Chocolate Valentine" package that includes glamorous overnight accommodations, valet parking with unlimited in-and-out privileges, two glorious chocolate cupcakes with chocolate buttermilk icing from Portland's fabulous Saint Cupcake, a sumptuous bottle of Oregon's own Pinot Noir, rose petal turndown, gift certificate to Cacao for their famous sipping chocolates and dinner for two at Gracie's restaurant where the chef plans a special heartfelt menu. Rates start at $199.
And for those lovers wanting a twist to their Valentine's Day, enjoy the hotel's "Twisted Love" package. With overnight accommodations and unlimited in-and-out parking, indulge in a bottle of Oregon-made red wine, chocolate-covered strawberries and a game of Twister – sure to get the romantic juices flowing – right in your hotel room. Isn't it fun being a grown up? Then, enjoy massage oil, bedside Kama Sutra book and an intimacy kit full of loving surprises. And of course, a late 2 p.m. checkout. Rates start at $209.
Need to just getaway and relax? The "All You Need is Love" package is made for you. Enjoy overnight accommodations in one of our luxurious rooms with champagne to celebrate. And with one-hour, in-room massages for two, rose petal and candlelight turndown, your evening will be memorable for years to come. Breakfast-in-bed or cocktails in the bar are also provided ($20 food and beverage voucher). Rates start at $429.
These packages will be available online to book in January 2010 at http://www.hoteldeluxe.com.
About Hotel deLuxe
Like its sister hotel in Portland, Ore., the Hotel Lucia (Condé Nast Traveler's Top 100 Hotels in the World) and its brother hotel in Seattle, Wash., the Hotel Max (http://www.hotelmaxseattle.com), the Hotel deLuxe (http://www.hoteldeluxeportland.com) is unique in Portland with its film-inspired design and magnified focus on personal guest services. For more information in regards to hotel photos and tours, please contact Dina Nishioka for details at 503.295.2122 x223. Also, visit http://www.hoteldeluxe.com for updates.
###